Every composer longs for the moment he completely captivates his audience.
It comes in the scores that make the hair stand up on the back of their necks, the music that gives them goosebumps and the compositions that transport them to another time and place.
That was the reaction Benjamin McMillan hoped for when his first major orchestral piece was played at the Press and Journal's inaugural Gold Awards on Friday night.
And it was absolutely the response he got.
The composer created the score – named Celebration of the Waves – especially for the ceremony, skilfully managing to capture and celebrate in music the North Sea's oil industry in all its glory.
But the magical surroundings of the Marcliffe Ballroom are likely to be just the beginning for this rising star. He is being tipped for global stardom by his teacher and mentor, the celebrated composer Professor Paul Mealor.
Prof Mealor, whose credits include the wedding of the Duke and Duchess of Cambridge, said: "You can teach many things musically, but you can't teach gut instinct.
"Ben has it in abundance. We can expect great things from him."
Earlier this year, the Press and Journal began exploring the possibility of creating a bespoke piece of music for the newspaper's first Gold Awards, a celebration of the last 50 years of the oil and gas industry.
With one the world's greatest composers on our doorstep, we approached Prof Mealor to find out if he could help.
The Aberdeen University lecturer is no stranger to creating music that captivates the masses.
He was catapulted to international stardom when 2.5billion people – the largest audience in broadcasting history – heard his arrangement of Ubi Caritas et Amor performed by the choirs of Westminster Abbey at the royal wedding in 2011.
And his spine-tingling song, Wherever You Are, performed by the Military Wives Choir, clinched the Christmas number one spot later that year.
However, for this specific task, Prof Mealor had another composer in mind – and that person, he admitted, could do a better job than him.
His student, Mr McMillan, from Stonehaven, is already making his mark in the world of music, having been accepted to study in New York at one of the most prestigious film music schools in the world.
The 28-year-old will leave his north-east home in August for two years to study at NYU Steinhardt, where he will be mentored by the best musicians in the industry.
Its alumni include Disney's most prolific composer, Alan Menken, producer, Mark Ronson, and filmmaker Martin Scorsese.
Before leaving for the bright lights of the Big Apple, Prof Mealor thought this task – rooted in the place where Mr McMillan grew up, studied and worked – was the perfect way to end this chapter of his life.
"I knew that Ben, one of our Masters students, would be the ideal person for this job – it's where his heart lies," said Prof Mealor.
Work on the composition began several months ago, as Mr McMillan started exploring the features of the industry he would need to convey.
It was not until he handed in his Masters project three weeks ago that he could finally make his plans come to life.
"The idea was to create something modern, yet timeless. It was quite a difficult brief to tackle, but one which Ben has done so well," said Professor Mealor.
The finished composition, Celebration of the Waves, contains moments of epic, triumphant cinematic sounds, balanced with moments of sheer tranquility.
Mr McMillan, with Prof Mealor's assistance and advice, wanted to create a piece of music that portrayed the "enormity" and mechanics of the oil industry, whilst capturing the "majesty" of Scotland itself.
Throughout it, he conjured up the sound of waves crashing against the industrial setting of the oil rigs, while water laps up against the rugged Scottish coastline.
Prof Mealor said he believed what his student had created was "beautifully evocative" of one of the world's biggest industries and the place its heart lies, the North Sea.
Mr McMillan said: "I've gone through the last five years of university trying to write for small groups, which I found quite difficult.
"But as soon as I needed to write for a full orchestra, it happened so easily and naturally. It's where my forte lies.
"It was nice to hear all the different aspects hitting off each other. I felt like a chef just throwing stuff in, trying it out to see if it worked."
He explained: "I used instruments like tam-tams and cymbals for the crashes of the waves.
"Through it all there's that triplet within the main melody, which I think gives it not only a rolling feel, but Scottish identity.
"I suppose as a composer I will always create music that sounds Scottish because of my roots."
When his creation was unveiled to the Press and Journal in the days leading up to the awards, editor-in-chief Damian Bates knew it would be perfect.
"It is utterly, utterly brilliant," he said.
Ben is an incredibly modest, gifted musician who is not taking anything for granted, especially his imminent move to New York.
He was awarded the prestigious Saint Andrew's Society of the State of New York Scholarship Fund to study in America.
He admitted he was extremely nervous at the prospect of revealing his work to a room-full of "important" strangers on Friday night, but said he felt privileged to have been given the chance.
His composition will also be played at this year's Energy Ball, which hosts 1,500 guests at the Aberdeen Exhibition and Conference Centre.
"I wouldn't say I'm the most confident person. Paul has pushed me to do these things and has made me believe that I could do them," he said.
"It's still not quite hit home that I will leaving for New York soon. Some days I'm really excited, but other days it's total panic mode.
"I will need to work once I'm over there to support my living costs but the scholarship has allowed me to follow a dream I never thought would be possible."
No matter where Mr McMillan ends up, his mentor knows for sure that he will go far – most likely creating the music for massive Hollywood blockbusters.
"As a teacher all you ever want is your students to go off to really important places and do really important things," said Prof Mealor.
"What more could you ask for than this? It's what any teacher dreams of."
Anyone who wishes to donate money to Mr McMillan to help him pay for his studies in New York can do so by visiting his gofundme page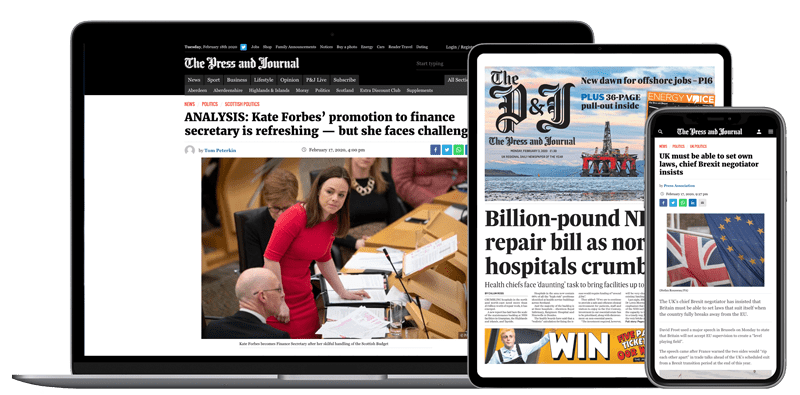 Help support quality local journalism … become a digital subscriber to The Press and Journal
For as little as £5.99 a month you can access all of our content, including Premium articles.
Subscribe