Each week, we ask small businesses key questions. Here we speak to David Duncan, who runs Quayside Fabrication in Colpy, Aberdeenshire
How and why did you start in business?
I grew up on a farm with my family and saw first-hand how much my dad enjoyed working for himself – this inspired me to be my own boss. I started up my own agricultural business when I was 18, then moved into property and later fabrication.
How did you get to where you are today?
By working round the clock and having a great team behind me. Our clients have also helped shape the company by helping us come up with new ideas.
Who helped you?
I've been lucky to get lots of support from my parents and wife. Sadly, my dad is no longer here, but he lives on through me and I strive to make him proud. I also received support from Scottish Enterprise and the Federation of Small Businesses.
What has been your biggest mistake?
Mistakes are great to learn from and make people who they are. The only things I wish I'd done better are to have stuck in more at school and to have spent more time refining my golf swing.
What is your greatest achievement?
Marrying Claire, my beautiful wife, and having our two children, Harper and Savannah. I'm a very proud dad and my family makes my life complete.
If you were in power in government, what would you change?
Wishful thinking maybe, but I'd like to see more honesty and clarity so that Joe Public can get a better understanding of politics.
What do you still hope to achieve?
I love coming up with new designs and ideas and am keen to make real change within the fabrication industry. On a personal level, I'd like to spend more time with my family.
What do you do to relax?
I'm not great at relaxing, or so my wife tells me, but I do try to take weekends off to spend precious time with my family.
What are you currently reading, listening to or glued to on the TV?
I've little time for these, but thanks to Sky Plus I catch up on the odd Lewis detective series.
What do you waste your money on?
If you work hard, you should enjoy the rewards. My wife is very good at spending our money.
How would your friends describe you?
I'm sure if I slipped them a fiver, they'd say lots of nice things about me – that I'm fun, loyal, honest, hard-working and kind.
What would your enemies say about you?
I hope I don't have any enemies. I always try to see things from the other side and I hope they would do the same.
What do you drive and dream of driving?
I drive a Range Rover Sport but I'd really like to fly a plane.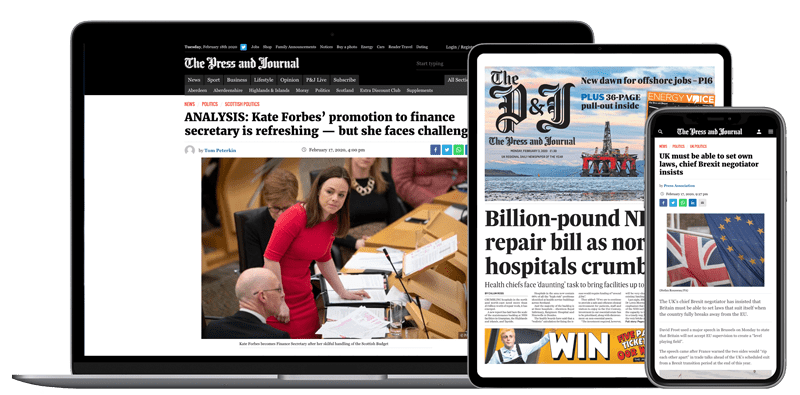 Help support quality local journalism … become a digital subscriber to The Press and Journal
For as little as £5.99 a month you can access all of our content, including Premium articles.
Subscribe