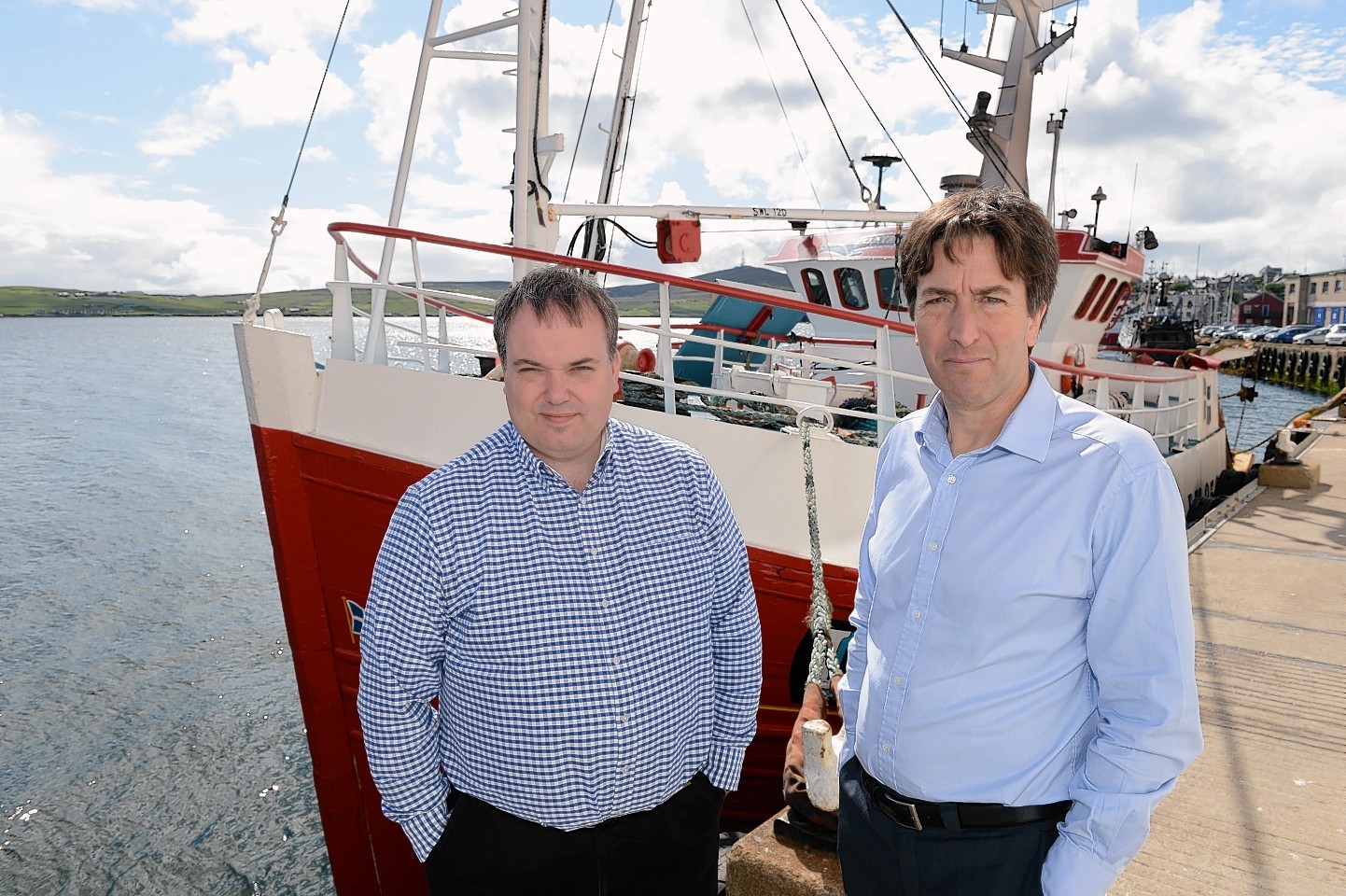 Fishing chiefs in Shetland know the success of their industry is critical to the future of the isles.
They speak with passion about the gigantic contribution the local fleet, along with aquaculture and processing, make to the economy.
But all is not well in the fishing ports of Lerwick and Scalloway, as Simon Collins and Brian Isbister – the chief executives of Shetland Fishermen's Association and Shetland Fish Producers' Organisation respectively – will soon tell you.
They even talk of betrayal by governments in Edinburgh, London and Brussels.
Mr Collins, whose career background before a life-changing move to Shetland from France was in banking and translation, said: "If something goes wrong with our fisheries, it has a knock-on effect for everyone.
"Fishing here is very diverse, going all the way from scalloping to the big white-fish trawler, and extremely adaptable.
"But if you pull out one bit, then you will knock out a lot of smaller bits as everything is integrated."
So what are the current threats and concerns for the Shetland fleet after surviving years of cuts to its quotas and days at sea?
"The main one is poor governance," Mr Isbister said, adding: "We have been through the wringer over the past 10 years.
"There is now an abundance of fish out there to catch and there is a market for it, but our biggest single threat is poor governance.
"We accept there is a need for constraint and control but it has to be measured and effective in its outcomes.
"There is a lot of concern just now about how effective a discard ban can be."
There is growing anxiety on the quayside about the looming ban on white-fish discards, which will eventually mean fishers having to land all that they catch.
Skippers are still largely in the dark about what will happen to any unwanted fish, and – more importantly – who is going to pay for its removal and disposal.
"They are a long way from being prepared for this," Mr Isbister said, adding: "It is worrying just how little we know about how this ban is going to work. There are significant questions remaining unanswered."
Mr Collins and Mr Isbister said many of the industry's current problems were rooted in key fisheries management decisions being made a long way from where fish are caught and landed.
The trend is towards more centralised policy-making despite EU overtures towards regional management, they said.
Major improvements in some key North Sea stocks mean fishers around Scotland could soon be seeing quota increases instead of more cuts.
But the Shetland industry's faith in the ability of the governments in Edinburgh and London to help deliver these is at a low ebb following a carve up over mackerel late last year gave Faroe more quota at the expense of Scottish vessels.
Mr Isbister said: "There is a lingering sense of hurt over what was done to the mackerel quota," with Mr Collins adding: "There is a real sense of betrayal by both the UK and Scottish governments."
The two fishing chiefs would like both administrations to help resolve an ongoing battle with Spanish rivals over access to fishing grounds off Shetland.
Spaniards working very close to the isles' coastline have been targeting valuable monkfish with gear known as gillnets, which can be up to 35 miles long and form walls of netting on the seabed.
The practice, though perfectly legal, prevents local vessels from fishing their traditional grounds.
"This has been a major issue for at least three years and it is getting worse," said Mr Collins.
Fishing bodies in Shetland, Orkney and the Western Isles recently teamed up to produce 10 recommendations they said would help to secure a future for commercial fishing in the islands.
They called for the recognition of traditional fishing rights, designation of the isles as "small offshore islands which are dependent on fishing" – as set out in the reformed Common Fisheries Policy – and provision for an "opt-out" for local vessels from regulatory and management powers devolved to Scotland.
They also sought a "fair" allocation of EU fisheries funding to reflect the islands' importance to Scottish fishing.
Mr Collins said he would "sign up straight away" for a Norwegian-style model of fisheries management, where the industry's economic and social contribution was more widely appreciated.