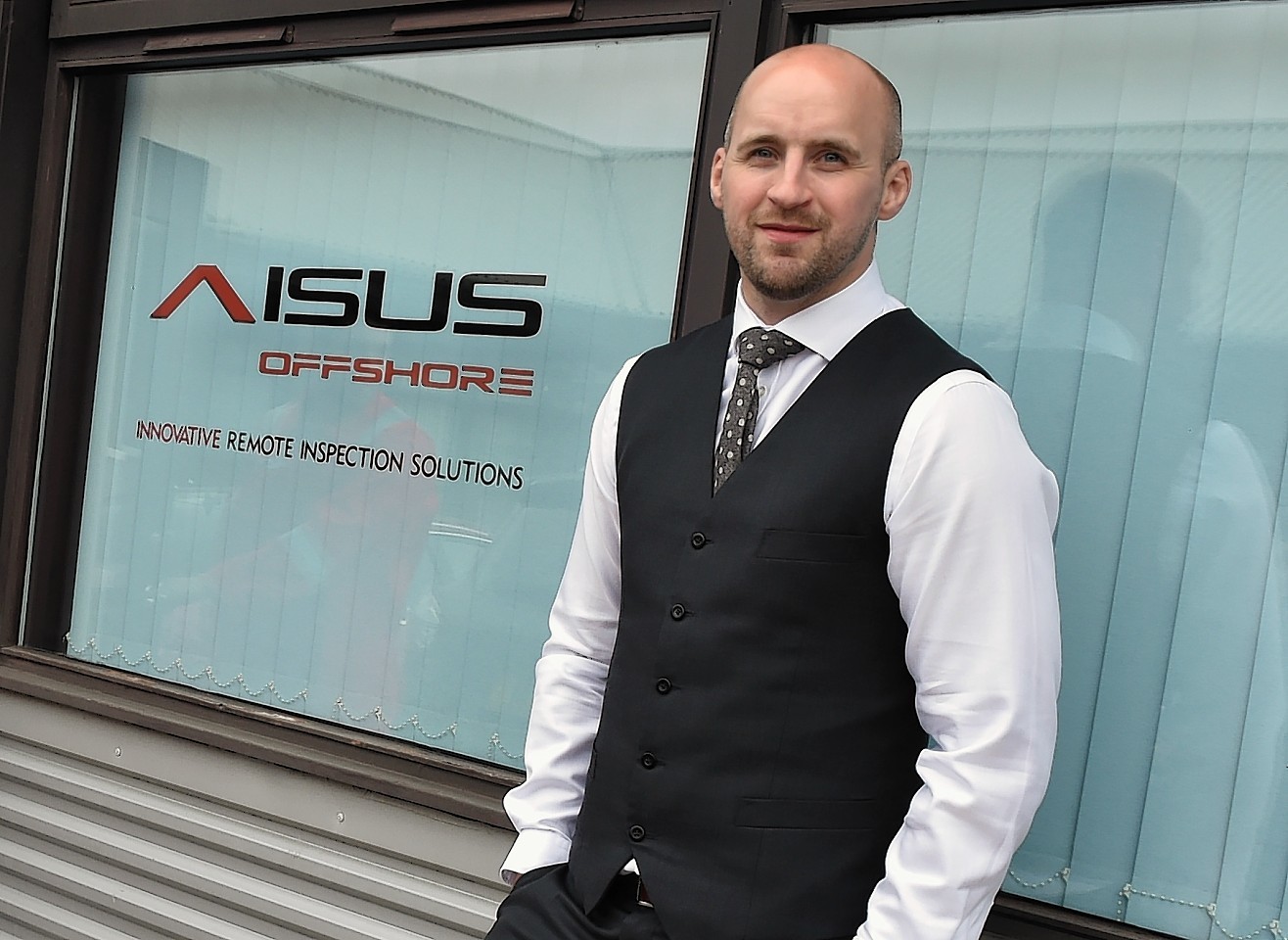 Snowboarding, scuba-diving, rugby-playing Stuart Lawson may be in the early stages of entrepreneurship but he's off to an impressive start.
The 30-year-old managing director of Aberdeen oil and gas technology firm Aisus Offshore has achieved his early targets for the business and is confident about its prospects.
He is as passionate about its products and services as he is about the other loves of his life, including the various sporting pursuits he enjoys as well as an appetite for foreign travel.
And if his name is not yet generating looks of instant recognition in north-east energy circles, that could soon be about to change after Aisus took its place among the finalists for the recent Elevator Awards.
The company develops and uses specialist technology to provide visual and ultrasonic inspection services to the global oil and gas industry. It has a string of North Sea majors on its client list.
Its remotely operated camera technology delivers live footage for inspections at all stages of the asset life cycle.
For the Elevator Awards, previously known as the Grampian Awards for Business Excellence, Aisus was up against OEM Diesel Products and eventual winner Zenith Energy in the business success category for firms less than three years old.
It was new territory for Aisus, which had never before put itself forward for honours.
But then again it's early days as the business was founded just over two years ago by its five directors – Mr Lawson, Matt Meredith, Martin Thomson, Andrew Johnston and Angela Milne.
They were all working for Stork Technical Services in Aberdeen – in the technical-integrity and asset-assurance business previously known as iicorr – when they hatched their plan to strike out on their own and set up a new venture.
With no orders or clients, little business management experience and few resources to set up a successful oil and gas service company, they had to work fast to secure contracts and avoid cash-flow issues.
Fast-forward a couple of years and the firm has exceeded all of its key performance indicators and business goals, including it taking its first steps into overseas markets.
It achieved its target of £1million turnover in its maiden year and the figure has grown by 75% in the 2014-15 trading year.
The company – which is owned by its five directors and a few private shareholders – currently employs 12 people and Mr Lawson, who recently returned from Trinidad after sewing up a deal there, expects this to grow by at least one of two before 2015 is over.
I wondered if he would hesitate to start up a new business like Aisus now, given the oil and gas downturn.
"It would potentially be a bigger risk at the moment but I don't think I would shy away from it," he said, adding he would "definitely recommend" getting a new enterprise up and running for any budding entrepreneurs out there.
He sees no reason why Aisus cannot thrive in the years to come, given that ageing oil and gas platforms and infrastructure will always need inspections.
The company will chase new work at home and abroad as the global energy industry "works harder and smarter" in the wake of the slump in crude oil prices, he said.
Aberdeen-born Mr Lawson grew up in Stonehaven, where he attended Mackie Academy before studying artificial intelligence and robotics at Robert Gordon University. He joined iicorr as a graduate engineer in May 2007.
He was senior inspection co-ordinator by the time he left Stork to co-found Aisus, initially as business development director in February 2013. He has been managing director since April last year.
Aisus may be a new and small company competing against much bigger rivals, including Stork, but its MD sees advantages in this.
"Smaller companies can be more reactive," he said, adding they were often able to turn projects around much more quickly than larger firms with several layers of management.
The original business plan for Aisus targeted turnover of £3million after three years and £5million after five, and Mr Lawson said it was on course to achieve both.
He had another more immediate goal looming after June's Elevator Awards at the Mercure Aberdeen Ardoe House Hotel and Spa.
Following a two-year break from rugby after a horrendous double-tackle left him with a broken leg and now a titanium rod in the limb, he was preparing to make his long-awaited return for Mackie Academy FP.
Adventurous by nature, he also enjoys scuba diving, snowboarding and exotic foreign travel.
Judging by the pained expression on his face at the very thought of it, holidays in Majorca or Ibiza are not his idea of exploring the world.
"I never go to the same place twice," he said, and after hearing about his last trip as an independent traveller, to south-east Asia, it struck me that his business ambitions are also driven at least in part by a desire to do it rather differently.