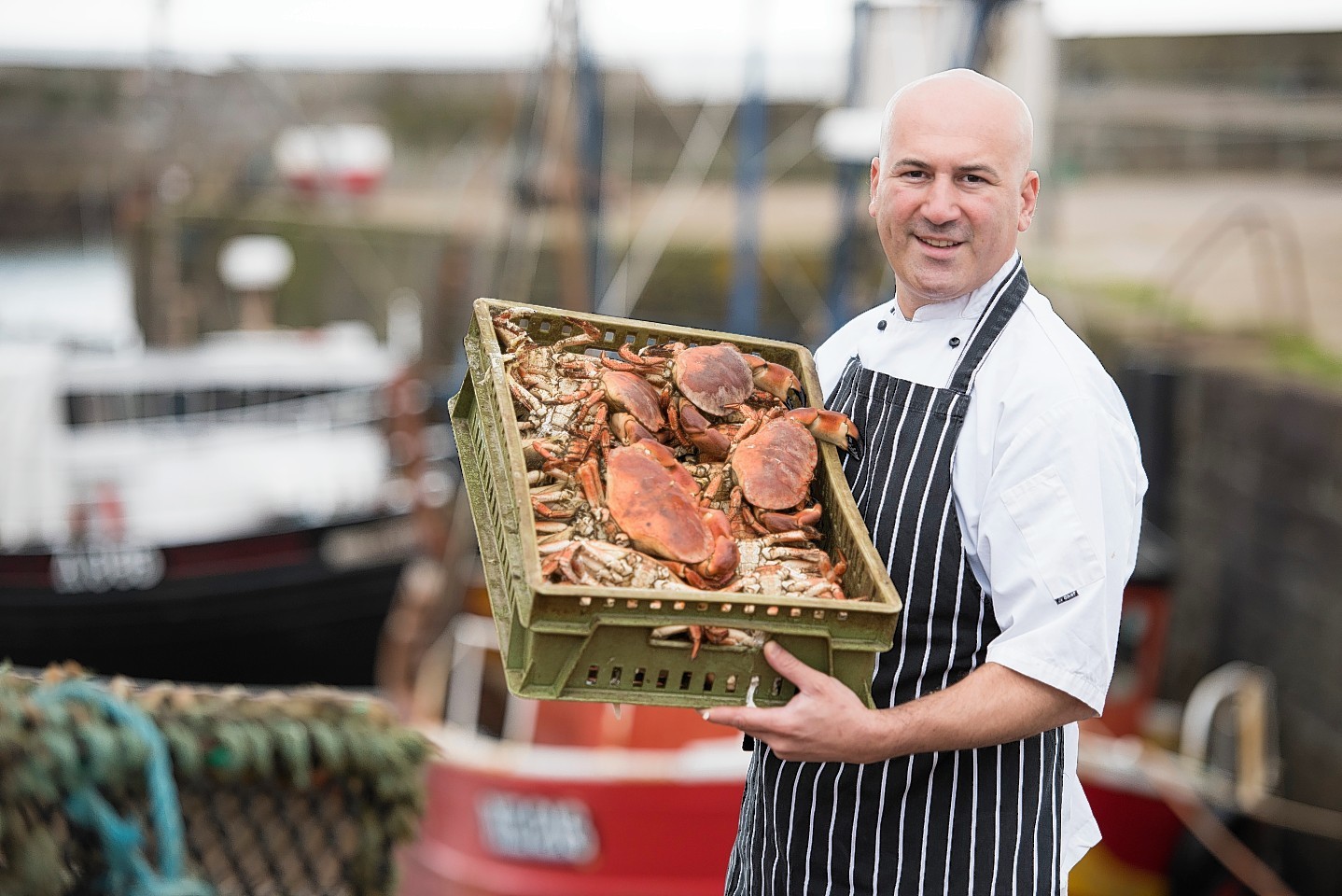 Alex Grahame, co-owner of Hornblowers restaurant and babysitter to the stars, is preparing to move his business at Gourdon, near Stonehaven, to Aberdeen.
A babysitting job for one of the world's most notorious gangsters ranks among his past career challenges – and was also how he met his wife.
There are a few caveats to the tale.
The "gangster" in question was Oscar winner Al Pacino, whose many on-screen roles include him playing Mafia boss Michael Corleone in the Godfather, and the babysitting was an unexpected but brief spell looking after the actor's child while the official guardian took a break in a swanky London hotel.
Mr Grahame was holding the baby the first time he met Ruth, who is now both his wife and sidekick at the award-winning Hornblowers seafood restaurant at Gourdon, between Aberdeen and Montrose.
Pacino's pride and joy was among a string of VIP guests Mr Grahame met during his time working in a luxury hotel, the athenaeum, in London's Mayfair area.
Take That were also visitors in the same week they were going through the turmoil of Robbie William's split from the boy band back in 1995.
"There was an absolute media circus around them," said Mr Grahame, 39, who learned all the key ingredients of good hospitality values during his years in London.
"It is all about the welcome that you give to people, whether it is Kevin Spacey or a married couple from Idaho and their kids on their holidays," he said, adding: "It makes no difference at all to the way you treat them."
It is a philosophy the Grahames have applied to running Hornblowers for the past four years and will stick rigidly to when they move their business to Aberdeen.
A mid-career break from the hospitality industry, working in digital media roles, taught Mr Graham that he was not really suited to sitting behind a desk.
It was a strong interest in cooking from scratch – helping his mother in the kitchen in his childhood seems to be the main influence – and Mrs Grahame's north-east routes which brought him to Gourdon.
He and his wife recently gained planning consent for a bistro-style restaurant and takeaway on the former site of Jimmy Chung's restaurant at Aberdeen beach.
Their new 16,000sq ft restaurant – rising form the ashes of a building destroyed by fire in February last year – will have 250 seats over two floors.
Slated for a 2017 opening, it will also have terracing and heated outdoor seating areas as well as an adjoining 650sq ft takeaway/seafood bar and 2,500sq ft ice-cream parlour.
Mr Grahame said it would be a wrench to leave Gourdon, where he and his wife have amassed a string of awards – the most recent being the title of "best chippy chips" in Scotland in the annual Choice Chip Awards.
Hornblowers has acquired a reputation for its commitment to Scottish and often even more local produce.
The restaurant gets fish from Gourdon or Peterhead harbour, fresh meat from The Store at Foveran, near Ellon, and salt for its chips from the Hebridean Sea Salt company.
Mr Grahame is also on a mission to educate Scottish tastebuds, such is his frustration over the lorry-loads of seafood he sees leaving the north-east on its way to France or Spain.
He hopes his new seafood bar will broaden horizons for some of the people who cannot see beyond haddock, cod and fish fingers when it comes to cooking and eating Scotland's catch.
The new restaurant – part of a £3million investment by the landlord – will help him to get the message across that there are many other kinds of seafood worth trying as it will accommodate many more diners at a time, compared with just 50 at Gourdon.
It will also provide jobs for as many as 80 people and Mr Grahame said he had already been scouting for potential waters and waitresses with the right attitude.
"We have our eye on a few people," he said, adding: "We see this as a real employment opportunity for Aberdeen."
The oil and gas downturn has not gone unnoticed at Hornblowers and Mr Graham said his plans for the biggest restaurant in the north-east and growth in the food and drink industry generally could help to offset some of the pain being felt across the region.
He and his wife are currently seeking a buyer for the Gourdon business, which serves up more than 60 stones of haddock a week and feeds about 30,000 people last year.
"Not bad when you consider there are only about 300 houses in the village," Mr Grahame said.
It employs 25 people and while the Grahames will be sad to leave them behind, they are also optimistic about staff keeping their jobs under new ownership.
Mr Grahame, who entered the hospitality industry aged just 16 and had a spell learning the trade in the south of France, said the new plans left him feeling exhausted but excited about the future.
They also mean a new chapter opening up soon in the story of a man with a lifelong passion for food, with skills honed alongside chefs who taught him that "when you have fresh food you don't have to do a lot to it to make it good".