 There's something going on in the woods at Alvie estate. In fact, there's always something going on in the 800 hectares of forests at Alvie and its sister estate, Dalraddy, which both lie about four miles south of Aviemore.
Whether it's the wildlife watchers coming to photograph the deer or the campers pitching tents between the trees at the holiday park, the forestry on the two estates is being put to a much wider range of uses than simply producing timber. Even when it's time to take out trees for saw logs, the estates aren't missing a trick, with any slightly rotten wood, odd species or trees taken out for thinning being turned into woodchips for biomass.
"I'm the most over-qualified firewood salesman in Badenoch," jokes Jamie Williamson, the current laird and holder of a doctorate in forestry. Alvie and Dalraddy have been in his family's hands since the late 1920s and Mr Williamson took over the running of the forests in 1979, before assuming responsibility for the rest of the estates' operations in 1983.
His father, Fergus, was part of the consortium that brought downhill skiing to the Cairngorms, as well as founding the Glenfeshie gliding club on land owned by his aunt. Even closer to home, he brought orienteering to the estates and opened the Dalraddy caravan park in 1968, with Mr Williamson subsequently extending his father's site from 25 acres to 98 acres among the trees, taking the number of caravan pitches from around 50 to now encompass 191 caravans and chalets, with 50 tent pitches.
"We're now the biggest supplier of biofuel in Badenoch and we're turning over between £100,000 and £130,000 a year through that alone," explains Mr Williamson. "We're supplying Kingussie High School, Rothiemurchus Estate, our own Alvie House, and a number of other big houses that have biomass boilers."
While camping, wildlife watching and woodchip may seem like natural progressions for a forest, Mr Williamson has also brought some more unusual events onto his land. Activities firm G2 Outdoor operates 14 zip wires on the estate, while guests can also take part in quad biking and areas are used by the Inverness & District Motorcycle Club. That's on top of archery, clay pigeon shooting, horse riding and gravel and slate quarrying, which are also taking place amongst the trees.
The broad range of activities going on at Alvie and Dalraddy Estates illustrates the changing face of forestry in the North of Scotland. Our nation is covered in some 1.4 million ha of trees, with the Forestry Commission Scotland managing around 650,000 ha and the rest sitting in private ownership, from hunting estates through to conservation groups.
Scotland's forest and timber industries are worth more than £1.7billion to the economy and employ around 40,000 people, according to figures from Scottish Forest & Timber Technologies, an industry leadership group that brings together companies, organisations and individuals to provide advice to Highlands & Islands Enterprise, Scottish Enterprise and the Scottish Government.
Trees aren't just big business when they're harvested either. The 2014 Forestry Outlook report from property consultancy CKD Galbraith highlighted the attraction of woodlands as an asset class, offering returns of 15.8% over the course of a year and 22.2% over three years, according to the IPD UK Forestry Index.
For many people, talk of forestry as an investment still conjures up images from the 1980s, with celebrities paying for hundreds of thousands of sitka spruces to be planted on peat bogs and other unsuitable habitats as part of a tax break. It's an image that the forestry sector has found it hard to shake.
"There's definitely a perception within the general public and some of the environmental non-governmental organisation (NGOs) that commercial forestry has to equal sitka spruce, it has to equal clear felling and it has to equal square blocks planted on deep peat," admits Ben Clinch, woodlands manager at Moray Estates, which looks after more than 4,000 ha of commercial forestry on behalf of the Earl of Moray and his family. "Our woodlands at Darnaway, Castle Stuart and Doune are predominantly not sitka spruce and they're thinned regularly, which allows a lot of folk enjoy the woodlands. We get a lot of people commenting that the woodlands are attractive to walk through and that wildlife is there in abundance.
"We're providing a lot of informal recreation and enjoyment as an ecosystem service if you like for free – that's not normally recognised. Well-managed forestry can provide timber but also a lot of things for free for folk that want to just get out and walk or ride bikes or ride horses.
"It's a big bugbear for a lot of forester. Perceptions of commercial forestry are perhaps stuck in the 1980s or the 1970s. Things have changed immeasurably and people are slow to recognise that. Perhaps that's the nature of forestry – the forests are slow to change and so people's perceptions are too."
While Mr Williamson manages Alvie and Dalraddy Estates for a plethora of different uses, Moray Estates is perhaps slightly more traditional in the way it treats its trees. The forests are managed for timber and support a healthy firewood business, but they also provide recreation for dog walkers, mountain bikers and horse riders, with Darnaway Forest between Nairn and Forres hosting part of the World Orienteering Championships last month. Yet careful management for timber can also bring economic benefits, with Moray Estates' forestry operations supporting the equivalent of four-and-a-half full-time posts in Moray and a further two further south at Doune.
It's not just private landowners that use their forests for commercial purposes though; community-owned woodlands are also being used to help earn a crust for local people. "There's no legal definition for what is or what isn't a community woodland," explains Jon Hollingdale, chief executive of the Community Woodland Association (CWA). "In our view, a community woodland is one where a local group or community-led organisation has a significant role in managing a woodland, sometimes by owning it and sometimes by leasing it and sometimes by working in partnership with an existing landowner.
"Recreation and biodiversity are a big focus for many community woodlands – these are often areas that were unproductive for timber or are close to the edges of towns. But there are some other cases where the communities are owning significant commercial forests and managing them for commercial purposes."
Mr Hollingdale points to North West Mull Community Woodland Company, which bought Langamull and West Ardhu woodlands in 2006 and which has since set up nine forest crofts, launched its own wood fuel company, created three jobs and opened up the two forests for timber. At Dunnet in Caithness, he highlights the work done in a 100-ha wood still owned by Scottish Natural Heritage (SNH) on selling wood for fuel, working with health and social work groups and opening a wooden structure that's been used for weddings and other community activities. "They've transformed a forgotten plantation into a community hub," he says.
On the shores above Loch Ness, the Abriachan Forest Trust has owned 534 ha since 1998. "They've got a busy wood fuel business but they also take kids excluded from schools into the woods and work with them, as well as rehabilitation work with people who have had drug and alcohol problems," Mr Hollingdale says. "They're using the wood as an outdoor school and an outdoor hospital."
"It's not a case of commercial woodland versus community woodland," adds Mr Clinch. "If you're managing a woodland to the UK Woodland Assurance Scheme and the UK Forestry Standard then there's a Hell of a lot of community consultation that is done. I don't know any other business that does as much genuine consultation. It influences when we fell and what we replant. Imagine going to a farmer and saying 'I don't like that oilseed rape – can you not put it in that field please?'
"Hopefully that will feed into the debate on land reform as well. When people ask if land is being sustainably managed then if it's being managed under the UK Forestry Standard and especially the UK Woodland Assurance Scheme then those are a helluva badge of good management."
Another element of the land reform debate, especially in the uplands, is the perceived conflict between forestry and sheep farming. But Stuart Goodall, chief executive at the Edinburgh-based Confederation of Forest Industries (Confor), argues that it doesn't have to be an "either or situation", pointing to evidence from Confor's Eskdalemuir report.
"Having forestry on the land can help, in particular with sheep production," he says. "The land quality is very poor and the animals are exposed to the elements. A sheep farmer can turn over part of the land to forestry, which provides shelter for the animals and should lead to better quality sheep. There's been some work – and this is an area that requires further investigation – that appears to show that if you plant some of the land with forestry for shelter then the overall impact on sheep numbers is negligible but you're then getting a better return from the forestry you've planted. So we encourage farmers to look at it as a possible integration opportunity."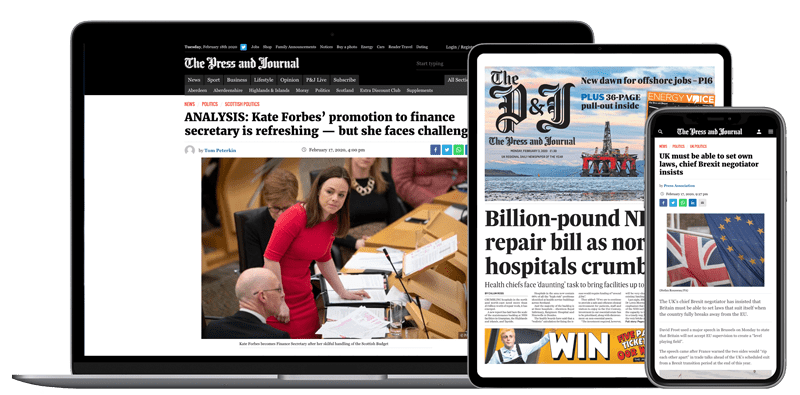 Help support quality local journalism … become a digital subscriber to The Press and Journal
For as little as £5.99 a month you can access all of our content, including Premium articles.
Subscribe