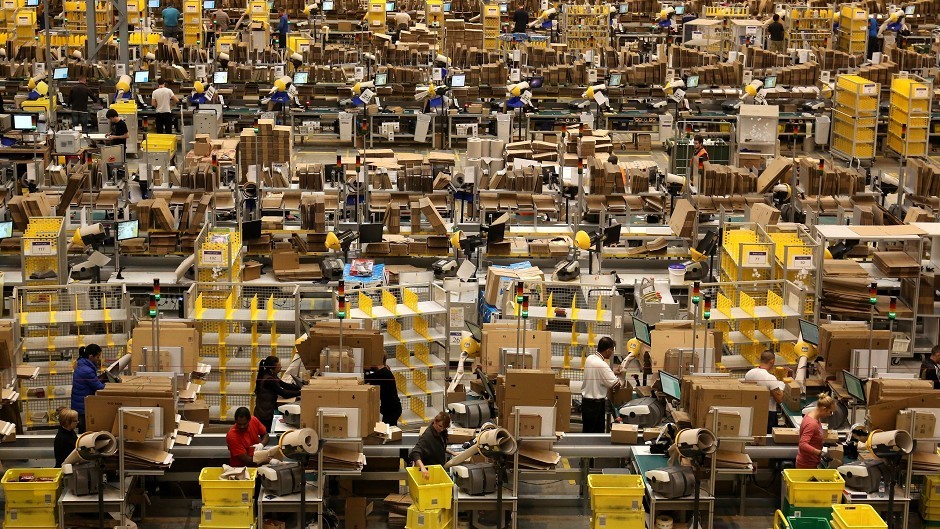 Online retailer Amazon has stepped up the pressure on Britain's traditional supermarkets with the nationwide launch of a packaged groceries delivery service.
The move is the e-commerce giant's most ambitious foray into Britain's growing online grocery market but stops short of replicating its broader US Amazon Fresh service, which offers about 20,000 chilled, frozen and perishable products and items from local shops.
Retail analysts have speculated the US company is gearing up for a launch of Amazon Fresh the UK next year.
The move comes as the online retailer's ambitions add pressures to other more traditional industries.
Next week Royal Mail is expected to reveal how its targets for parcel delivery growth has been affected by Amazon's roll-out of its own delivery network.
The online specialist also made a surprise foray into bricks and mortar with the launch of its first physical bookstore in Seattle this month, raising concerns about a possible threat to US book store chains such as Barnes and Noble.
Earlier this year Amazon surpassed Walmart as the world's largest retailer by market value for the first time.
This was about the same time that Amazon sparked further anger over its UK tax bill after it emerged it paid just £11.9million in tax in 2014 despite the group taking £5.3billion in sales
The new "Amazon Pantry" service offers Amazon Prime members, who pay an annual fee of £79, the choice of more than 4,000 "everyday essentials, in everyday sizes", including food and drink, household supplies, baby, child and pet care, health and beauty. Delivery charges will start from £2.99.
Helene Parthenay, Amazon Pantry manager at Amazon UK said: "Amazon Pantry has been designed to take the heavy lifting out of replenishing the often bulky basics and store cupboard essentials that people need every day,"
Amazon Pantry is already available in the United States, Germany and Japan.
All of Britain's big four supermarkets – market leader Tesco, Wal-Mart's Asda, Sainsbury's and Morrisons – have seen sales and profits hit as they cut prices to stem the flow of shoppers to German discounters Aldi and Lidl.
All of the so called big four have online grocery offers, with Morrisons the last to enter the market through a tie-up with Ocado.
Online groceries is one of the few channels to market that is growing, though its profitability is questionable. According to industry research group IGD the UK online grocery market will nearly double to £17.2 billion in the five years to 2020.