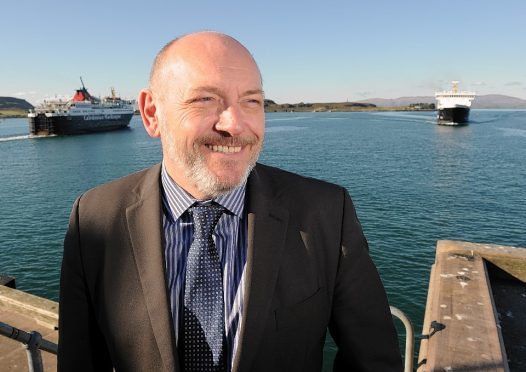 It was only days after Martin Dorchester started his new job at Calmac-owner David MacBrayne that the ferry operator lost out on a significant chunk of its business.
Luckily for Mr Dorchester, a seasoned business leader with 30 years' experience of logistics, retail and marine, any hopes that Caledonian MacBrayne could keep the £243million "lifeline" ferry service to Orkney and Shetland had already been sunk.
"Calmac wasn't even in the game," recalls Mr Dorchester, who is both managing director of Calmac and chief executive of David MacBrayne. "We had to find out how as the incumbent operator we didn't even get past the bid stage.
"Part of the problem was culture. Bidding and competition is a skill. Calmac was old fashioned and never had to compete in the market."
Instead outsourcing giant Serco won the business. But the Barnsley-born ferry boss has vowed to "win back" the service when it comes out to tender again in 2017. "It's ours," he states simply.
His first job in the captain's seat at David Macbrayne was to ensure the company was fighting fit to retain its main contract – the Clyde and Hebrides Ferry Services (CHFS) – which provides another lifeline to the Western isles.
Having secured a three year extension to Calmac's run as operator of the service, he now feels "confident" the state-owned firm could beat out rival Serco when Transport Scotland unveils the winner of the £1billion contract after the Scottish Parliament elections in May.
"The contract for running ferries in the Western isles is the most complex I've ever seen," says Mr Dorchester.
"We've got a lot of experience. We put in a really good bid. We listen to customers – although we don't always do what they ask. That would be impossible," he says.
It is surely impossible to please everyone. One of the first moves towards modernisation of the 160-year old ferry operator that Mr Dorchester oversaw was introducing a Sabbath-breaking ferry service from the Presbyterian isle of Harris in the Outer Hebrides. He pointed out that most of the people who had been consulted on the introduction of Sunday sailings from Tarbert to Uig had been in favour, the Free Church presbytery on Skye protested and called on CalMac to "repent" of its "sins".
This summer, Calmac also faced the ire of trades union workers who undertook 24-hour strike in June. And while Mr Dorchester pledged to include a commitment of no compulsory redundancies in its bid for the CHFS, members of the RMT union persisted – not because of anything that Calmac had apparently done, but because of what would happen if the service was taken over by Serco.
The Scottish Government-owned ferry company has been on a journey since Mr Dorchester's arrival.
Other mod cons to come to Calmac is onboard wifi and Oyster card style integrated ticketing systems, while the firm has also dedicated itself to supporting the communities it serves by promoting local food and drink through its onboard restaurants wining VisitScotland's "Taste our best" accreditation.
"I have big aspirations for David Macbrayne," Mr Dorchester said.
"Short term it is to win the Clyde and Hebrides Ferry Services (CHFS) contract.
"In the slightly longer term, we aim to take back our contract in the Northern Isles, because it is ours," he said.
Transport Scotland is expected to unveil the new tender for the Northern Isles ferry service to Orkney and Shetland in 2017 before it is awarded in 2018.
Mr Dorchester also believes David MacBraybne is now in a good position to take over international transport services. He points to state-owned firms like Abellio – which recently won the bid to run Scotrail – as the future.
Mr Dorchester said although the firm last year lost out on a bid to run ferry services to Sweden's largest island, Gotland, this year it proved its ability to win new business.
"We should have won it," says Mr Dorchester.
"If the Swedish government were really honest with us, I think they would say we should have as well," he adds mischeviously.
But the company has now made a successful foray outside of Scotland.
In April, David Macbrayne will become the operator of the Marchwood Military Port through its joint venture company, Solent Gateway, after it won the work from the Ministry of Defence (MOD).
"We would like to grow our relationship with the MOD. It is also to take an MOD port and turn it into a commercial operation."
But while Mr Dorchester has honed Calmac's commercial skills, he still considers himself as running a social enterprise, albeit one that is "as efficient as we can be".
It is fitting perhaps for a man who went to the same grammar school as conservative politician William Hague – or rather, Lord Hague of Richmond as he is now known – but who grew up in the coal mining communities of South Yorkshire.
Born and raised in Barnsley, he cites growing up in the community of a pit village as key to his business sense.
"That is what makes be understand the need to support communities, I grew up with that. I lived through all the big strikes, I saw the pit industry come to its knees. I saw communities standing shoulder to shoulder through that period – it has had a big impact on me
"I want to grow David Macbrayne as a wider international group. But I want to grow it as a wider international group that doesn't lose sight of what it is and its core values. It is about making people's lives better."
Q&A
Who helped you get where you are today?
My wife. She has helped and supported me for 30 years now.
David Dworkin was a brash American brought in to save Storehouse Group. He was the first person I could remember talking to me about how valuable customers are.
He also brought in Ann Iverson, who became chief executive of Laura Ashley. She was one of the most organised, straight-talking, straight-thinking people. She could talk to anyone.
Jackie Stewart is a consummate professional, he is passionate about what he does, he never forgot where he came from – and he loves Calmac. And he wins. I love winners.
What do you still hope to achieve in business?
"I want to put a little bit more confidence for Scotland – as a country, as a business and as a people. I want us to walk that walk rather than talk it.
In short I want to take over the world.
If you were in government, what would you change?
I don't like the adversarial nature of government – I'd like to see more grown up consensual discussion and cross party groups.
I have spent time in the Scandic countries- they have a different way of engaging and I like that – it's a better way to engage.
One of the things I like about Scotland is government is accessible. It is not so accessible when you are in Westminster.
I am a strong Europhile. I'd like to see our government talking up the benefits of being in Europe.
What are you reading or glued to on television.
I love Lee Child – I'm a Jack Reacher fan. But my favourite authors are John Fowles, and Thomas Hardy.
I also like Ian Rankin. Calmac supports the Colonsay Book Festival and Ian was the key to supporting the first one. I met him on the boat. He's a really good guy.
If you were a character in history or fiction, who would you be?
I grew up reading wild west novels so Jim Bowie or Davy Crockett.
What kind of car to drive and what would you dream of driving.
As someone who grew up loving Jackie Stewart, I don't like driving. At the moment I drive a Nissan Infinity. If you said motorcycles, a Norton 850 – absolutely. At the birth of my first child my wife said get rid of the bike. Now I'm 52, I'm going to buy another one.
What would your wife and children say about you?
The kids would say dad is the one that takes us out. My wife would probably say I'm supportive and have a good sense of humour. We laugh a lot. She'd better say I'm sexy.