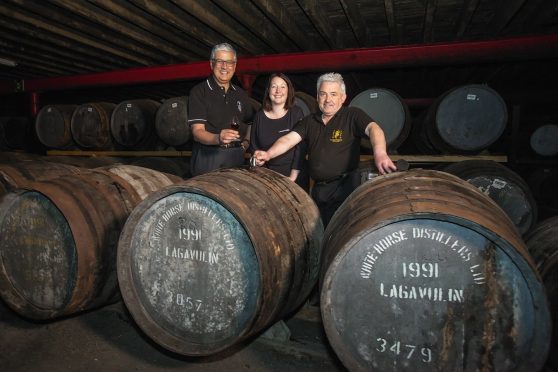 Diageo boss Ivan Menezes stopped on Islay yesterday to launch a year of celebrations to mark the 200th anniversary of the Lagavulin Distillery.
Mr Menezes, the chief executive of the drinks giant, joined distillery staff in selecting a rare cask of Lagavulin to be used to raise funds for community benefit.
As part of the celebrations, the Indian-born American/British business man also launched a social media campaign aimed at encouraging people from around the world to visit Islay and Lagavulin Distillery during the celebrations which will run throughout 2016.
At Lagavulin yesterday, Mr Menezes was guided through the cask selection by distillery manager Georgie Crawford and legendary Lagavulin warehouseman Iain McArthur, who has worked for Diageo for 45 years.
Mr Menezes said: "We're very proud indeed of our people and our operations on Islay and it is a great pleasure for me to be here to mark the 200th anniversary of Lagavulin.
"The distillery is part of the fabric of the beautiful whisky island of Islay and so much of what we do here is linked to the community. So, I am delighted that, as we celebrate globally, we will also recognise the local contribution and what better way than to dedicate a special, rare cask of Lagavulin to raise money to benefit Islay."
Islay plays a crucial role in the whisky industry with its eight working distilleries and brands such as Lagavulin, Caol Ila, Laphroaig and Ardbeg.
Mr Crawford said: "It's an enormous source of pride to be the manager of Lagavulin at any time, but to lead the distillery through its 200th year is a great privilege. As someone who grew up on Islay, it is fantastic to be able to use the celebration of our history to benefit the community here. We look forward to welcoming many others who will make the pilgrimage to Lagavulin just as Ivan our CEO has in this special year."
Mr McArthur, who started working at the Port Ellen Distillery in 1970 before moving to the Lagavulin Distillery in 1983, said: "Of course, every cask of Lagavulin is special, but the one we have picked today with Ivan is very rare. It was filled in 1991 so it has spent 25 years gently maturing in our warehouses here on Islay. It's fitting that the money raised by such a special cask and such amazing whisky will be used directly here on Islay."
The distillery of Lagavulin officially dates from 1816, when John Jonston and Archibald Campbell built a distillery on the site. Although records show illicit distillation took place there as far back as 1742.
Further details of the plan for the special cask will be revealed later this year as part of the programme of celebrations.
The year will see a series of events at the distillery which will be accompanied by the social media campaign, which will encourage people to leave their own stories and messages to mark the anniversary. Visitors to the distillery will be able to record their own messages using a specially installed social media booth.
Earlier this month a new Lagavulin eight-year-old Single Malt Scotch Whisky limited edition was announced in honour of Alfred Barnard, the famous Victorian whisky writer who sampled an eight-year-old Lagavulin during a visit to Islay in the 1880s, describing it as "exceptionally fine".