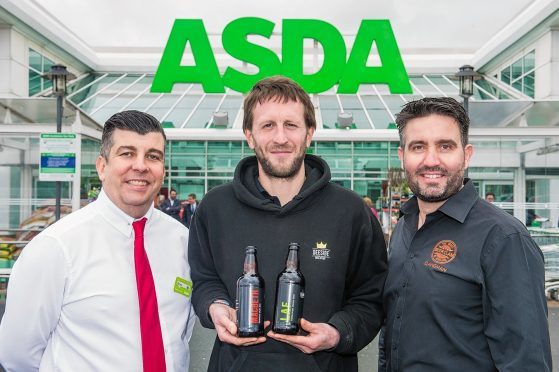 North and north-east craft breweries are among 13 across Scotland celebrating deals to supply one of the UK's top supermarkets.
Asda said yesterday the listing for stores throughout Scotland was worth a total of £850,000 to the beer and cider-makers, which include the Loch Ness, Deeside and Lerwick breweries as well as Nairn-based Wooha and the Isle of Skye Brewing Company.
Deeside Brewery, based in Banchory, Aberdeenshire, said its initial 12-week run was worth more than £30,000.
Its first order with Asda will see it supply more than 8,000 bottles of its two leading products, LAF and MacBeth, and is the brewery's largest supermarket deal to date.
Deeside Brewery is one of nine beer makers in the Asda tie-up benefiting from a partnership with trade body Craft Beer Clan Scotland (CBCS), which was set up to support craft brewing north of the border and promote sales throughout the UK and overseas.
Neil Stirton, head brewer at Deeside Brewery, said: "This contract win with Asda will allow us to continue meeting increasing customer demand for Scottish craft beers.
"We continue to attract long-standing and new craft beer drinkers in Scotland and beyond, and we want to ensure they can easily source our products."
A rebranding exercise for Deeside Brewery in 2012 has helped drive a doubling of sales since last year, with trade buoyed by increased demand from bars, restaurants, venues and suppliers.
Asda's new supply deals cover more than 75 Scottish beers and ciders.
Heather McDonald, head "brewster" and owner of the Wooha Brewing Company, said: "We are delighted to have secured our first major supermarket listing with Asda, thanks to our relationship with Craft Beer Clan.
"Although we're currently one of the youngest microbreweries in Scotland, having just celebrated our first anniversary, this new deal is a great example of the supermarket's commitment to supporting Scottish suppliers, no matter how big or small the brand."
Asda said the strength of the craft beer industry in Scotland, with more than 100 breweries operating north of the border, showed demand was "still bubbling away"
Brian O'Shea, the group's buying manager for Scotland, added: "The craft beer culture continues to grow and it's clear customers are trading up to more premium beers, particularly ones which come from local brands.
"The new lines we have launched are all premium quality and will give customers a new more local choice, with a variety of flavours to suit every palate and occasion."
CBCS director Chris Miller said: "The Craft Beer Clan works hard to promote Scottish craft beer at home and abroad, and it's fantastic we've been able to work with a major retailer such as Asda."