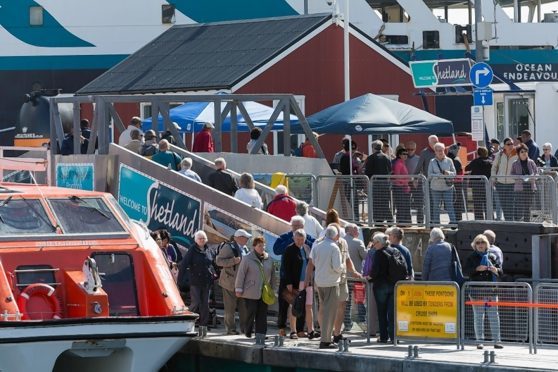 Bosses at Lerwick Harbour are expecting to smash records for cruise ship business this year as it welcomes the first vessel of the season this weekend.
On Sunday, the Cruise & Maritime Voyages (CMV) operated Astoria will call in en route from Portree to Torshavn, Faroe, on a Scottish Islands and Faroe cruise.
The Lerwick Port Authority (LPA) expects to beat all measures of cruise ship business over the next six months, including the most passengers and vessels yet at the Shetland port, along with the highest gross tonnage of cruise ships, including not one but two of the biggest vessels to date.
Lerwick expects to welcome almost 54,000 passengers, up on the 2014 record of 43,273 while 78 vessels are currently due, beating the high of 52 in 2012.
The authority added that the cumulative tonnage at 2,212,023 gross tonnes tops the 1,684,699 gross tonnes set in 2014.
In addition to this, the record for the largest cruise ship will be broken twice – by P&O Cruises 115,055 gross tonne Azura on 30 June, followed by Celebrity Cruises' Celebrity Silhouette at 122,210 gross tonnes on 14 August, with around 3,100 and 2,900 passenger capacity respectively.
The current record is held by Costa Pacifica, at 114,288 gross tonnes which berthed in June 2011.
Victor Sandison, the port authority's senior commercial executive, said: "The prospect of a complete set of new port records makes it a particularly exciting season, highlighting Lerwick's contribution to the growing Scottish cruise industry and to the Shetland economy."
The Marco Polo, also operated by CMV, will make the last call of the season on 6 October, heading from Dublin to Kollafjordur, Faroe, on an Iceland and Northern Lights cruise. June and July will be the busiest months, with 18 and 23 calls due respectively.
Ten maiden calls will include Celebrity Silhouette and Viking Ocean Cruises which is visiting Scotland for the first time, with Viking Sea and Viking Star.
The Port Authority is continuing to support the popular "meet & greet" programme which welcomes and assists arriving passengers and crew.
An arrangement with Hjaltibonhoga, the Shetland Fiddlers of the Royal Edinburgh Military Tattoo, who helped coordinate fiddlers to play for visitors at quayside in 2015, is being repeated.
Mr Sandison added: "The completion of the new Holmsgarth North Jetty this autumn will provide further berthing facilities for cruise ships from 2017 onwards. The outlook is very positive for next season, with 54 ships already booked – promising record tonnage and over 52,000 passengers – with more to come. This early, there are also 13 bookings for 2018."