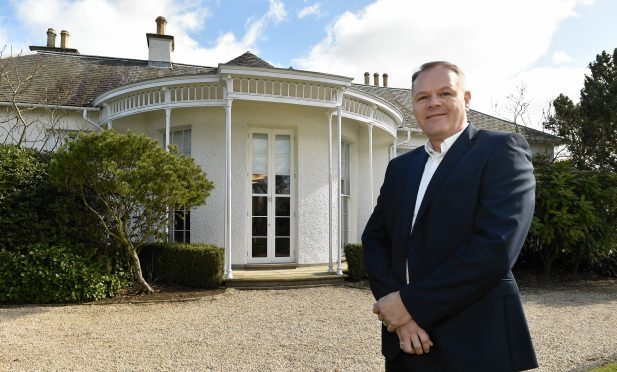 If Mike Allen is disappointed about not getting out of his company's Bridge of Don office very often, he doesn't show it.
That's probably because he couldn't have picked a much better location in which to be "chained" to a desk.
Reactive Downhole Tools (RDT) occupies Balgownie Lodge, a bright, beautiful and spacious building with an expansive garden within Aberdeen Innovation Park.
On a sunny day, it looks like a summer house in a countryside estate and seems like an inspiring place for RDT's eight Aberdeen-based employees to work.
Chief executive Mr Allen, 46, said: "It was a personal house until 1982, so it's a strange place for an office. But we fell in love with it."
The setting seems to suit RDT, which was founded on April Fool's Day in 2012 and claims to be a "little bit unconventional".
Although I missed out on Friday afternoon recreation, which has been known to involve equipping employees with foam-dart guns and turning the office into a battlefield, I did see a camouflaged figure stalk past the office window holding a bow and arrow. The shrug of Coventry-born Mr Allen's shoulders suggested that kind of occurrence is the norm at RDT, which sells lower completion systems to the oil and gas sector.
RDT recently celebrated the installation of its 24,000th packer – hardware which seals the outside of production tubing – but with revenues down on this time last year, the business has felt the force of low crude prices. But Mr Allen, who feels a return to $60 oil is needed before any real improvement in the sector materialises, said strong trading in the US in previous years, coupled with canny investment, has put RDT in a resilient position.
He said: "We're a lean organisation. If more companies produced the sort of figures we did last year the industry would have a lot more employees."
And Mr Allen is now looking forward to escaping his office and heading out to the Offshore Technology Conference (OTC) in Houston, a city in which RDT has another production facility.
It will be the third time RDT has been at the world's biggest oil and gas show and Mr Allen believes this year's event will provide a good indication of the sector's plight.
The father of two said: "I thought OTC would be struggling last year but it was busy. This year I'm more concerned about how many people will be there. I don't think there will be as many decision makers there this year."
RDT's customers aren't confined to North America and Europe. The firm has started to get orders from national oil companies in the Middle East, the "culmination of two-and-a-half years' work".
It helps that Mr Allen knows the area extremely well, having lived in Kuwait for a decade from the age of 10.
So much did Mr Allen enjoy the "privileged upbringing" of a "spoilt expat brat" in Kuwait, which was cut short by the build-up to the invasion by Iraqi forces in 1990, that he spent four largely unhappy years in England trying to get back to the Middle East.
Mr Allen said not having a degree made a return difficult, but he managed it by getting an HGV licence and working his way up the ladder at an air freight company before getting posted to its office in the region.
About 15 more years in the Middle East followed, during which time Mr Allen worked for Halliburton and Schlumberger, among others.
But Mr Allen's affinity for the region waned. The death of a colleague in a bomb attack, in particular, soured his view. He said: "The Middle East changed and I changed. It's out of my system now. Once I left there and came to Scotland I fell in love with the place."
He is now geared towards reinvigorating RDT with a new range of tools to complement its packers, and there are plans to open a new manufacturing facility.