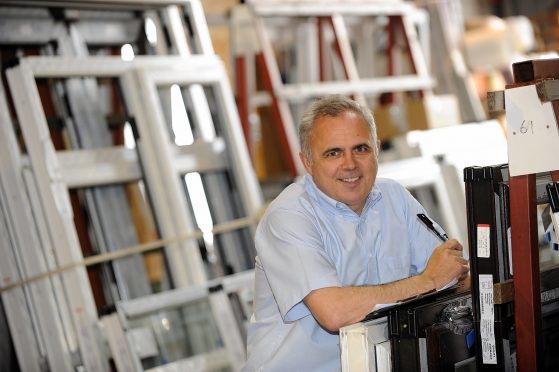 Bon Accord Glass said yesterday its transformation from a glazier into a home improvement company had helped it maintain slight growth last year.
Managing director Colin Kinghorn said he was "satisfied" with the 3.6% increase in turnover in the last financial year, given the pressure being put on margins by the oil price downturn.
Mr Kinghorn said the business climate was "tough for everyone", but added there were recent indications of stability returning to the market.
Bon Accord Glass, which was founded in 1974, has diversified its offering to attract more customers in recent years, he said.
The company used to trade in windows, doors and conservatories, but now also supplies and fits kitchens, bedrooms, bathrooms and studies for residential clients.
It does not have customers in the commercial property sector.
Accounts lodged at Companies House show Bon Accord Glass increased its turnover by £273,000 to £7.79million in the year ended July 31, 2015, a period which saw the business open its kitchen showroom.
Its turnover went up by £330,000 the previous year.
But pre-tax profits at the business down by £103,000 to £288,000 in 2014/15 in an indication that many north-east residents are not yet ready to loosen their purse strings amid the current economic downturn.
Mr Kinghorn said: "The current economic climate is tough, but it's tough for everyone. We just have to keep cracking on and doing the best we can. That's all we can do. If there's growth, there's growth, if there's not, there's not.
"Business has been reasonably steady the last six months. There have been some signs of the market settling but it will take a while for confidence to come back and for people to start spending money again."
Mr Kinghorn and current sales director Martin Allan took over the business in 2008 in a management buyout.
They acquired it for an undisclosed sum from founder Bryan Keith and his son Martin.
Mr Kinghorn has been at the company since 1983, while Mr Allan arrived in 1988.
Mr Kinghorn, whose son Bryan is part of the management team at Bon Accord Glass, said he expects the company to continue trading favourably in the forthcoming year.
Bon Accord Glass, which employs about 80 people, had net assets of just over £5million at the end of its last financial year, roughly flat on the previous year.
It paid out dividends totalling £240,000 over the course of the 12 months.