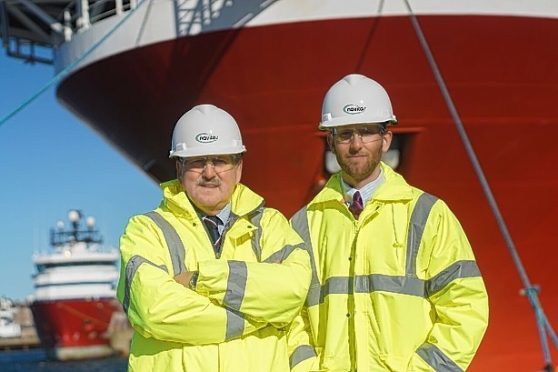 A north-east father-and-son team are ready to go after their first major contract wins just over a year after setting up a business together.
James Murphy and his son, Jamie, founded Navitas Compliance Solutions (NCS) in Peterhead last February and have largely bankrolled it with their own funds.
The Murphys, who have both served in the army, have spent the intervening period creating a programme that will help oil and gas companies train native workers in developing countries.
They discovered a gap in the market for this service and are targeting Africa in the first instance, with visits to the continent planned for this summer.
Mozambique and Tanzania have some of the largest offshore gas fields in the world, but with no local supply chains they need international oil companies to recover the hydrocarbons.
Operators are prepared to invest billions on developing these fields, but, in accordance with the region's laws, the local workforce must have some involvement in oil and gas sector activity.
That means training thousands of locals, an onerous task for many firms.
Murphy senior, 61, said: "Companies start off with good intentions to put national staff in charge but over the course of the project that objective becomes more difficult. It becomes squashed against the time barriers and the situation can become acrimonious with national governments pushing for their quota."
NCS is equipped to manage the process for companies, said Murphy senior, who is the firm's managing director.
NCS shares an office and a first name with oil and gas recruitment firm Navitas International Solutions (NIS), though the two companies are separate entities.
NCS currently has five staff members and plans to increase that figure to 12 over the next year.
In terms of clients, NCS is eyeing two contract wins in the same period, one in Mozambique and the other in Tanzania, to boost its turnover to £250,000.
To that end, NCS has amassed a pool of about 25 contractors from technical and military backgrounds who are ready to be deployed to provide training at short notice.
Only time will tell whether NCS can strike the right note with oil companies, but Murphy senior is optimistic.
For one thing, NCS is ready to work – Murphy senior said he could "man up" a project in a day if called upon.
He also has his son as a business partner again. The duo briefly worked together at GTCC, an Ellon-based safety training firm which was founded by Murphy senior and then taken over by Global Energy Group in 2011. They also spent time working in Liberia during the Ebola crisis.
Murphy senior said: "It's nice to have him here. I thought it might be more difficult but it's turned out to be far easier. We are like minded characters who share the same passions.
Murphy junior, 31, who is NCS's operations director, said: "Working together has been good. Mum was apprehensive at first but now she thinks it's a good move. We've got the same sense of humour and work well together."