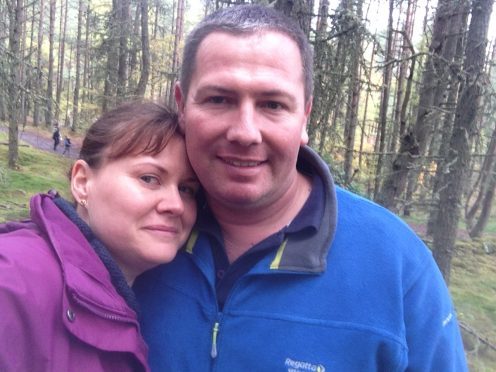 Orkney could go from having no gin distilleries at all to having two in less than a year, thanks to two local couples.
Stuart and Adelle Brown have just submitted an application to set up a distillery on their own land in Deerness.
Last month, Stephen and Aly Kemp said they had requested planning permission for a gin-making business 12 miles away in Kirkwall.
Mr Brown said yesterday he hoped the plans would put Orkney on the map as a Scottish centre for gin.
Gin has been resurgent in Scotland – traditionally the home of whisky – in recent years.
Twenty-nine new distilleries sprung up across the country between 2010 and 2015, taking the total to 119, which is 28 more than in England, according to figures from HM Revenue and Customs.
Of all the gin produced in the UK, 70% is now made in Scotland.
In January, the Wine and Spirit Trade Association (WSTA) launched the Scotland Gin Trail to showcase the country's distilling prowess and attract tourists.
The trail featured 12 locations, including Unst in Shetland, but Orkney was not among them.
The spark for Deerness Distillery came from the Browns' passion for producing their own spirits, as well as from Mr Brown's desire to spend more time with his wife and three children.
Mr Brown, who was born in Australia but educated in the UK, said his previous work on major infrastructure projects in Africa, Asia, Australia and the UK involved spending up to 45 weeks of the year away from home.
He decided a change was needed so moved to Orkney with his family in November 2014 for a career break, while Adelle, a pharmacist, got a job at Balfour hospital in Kirkwall.
Mr Brown said: "I'm a gin hobbyist, with business experience. I've managed quite a few companies and have the business acumen and passion to do something I enjoy, rather than working in the middle of Africa putting in a new mine."
He hopes to receive planning permission in the next six to seven weeks, and a build time of about four weeks for the distillery means it could be up and running by late summer.
The distillery will be smaller than the Kemps's Orkney Distilling business, with the Browns expecting it to cost about £30,000 to build and equip plus a similar sum for base spirits.
It will initially be manned by the Browns alone, but they are confident of producing 500 bottles a week.
That level of production would saturate the Orkney market quickly, so Mr Brown is targeting sales on the Scottish mainland in the near future and exports further afield in two to three years.