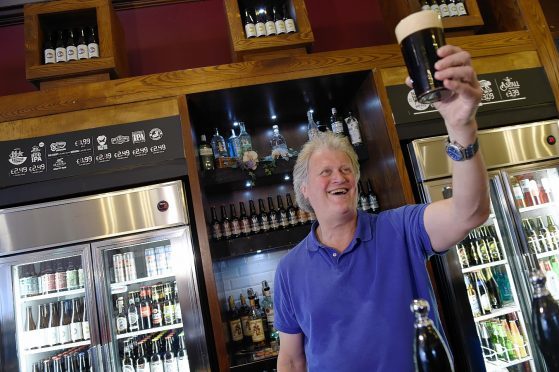 A true giant of the UK pub industry popped in to saviour the atmosphere of the Cross Keys in Peterhead yesterday.
At six feet and six inches tall, Tim Martin was never likely to go unnoticed.
But how many of the regulars enjoying their afternoon pint, a bite to eat or just a coffee knew he was the founder and chairman of JD Wetherspoon, which owns the pub they were sitting in?
He is currently in Scotland to convince customers and anyone else who will listen that the UK is better off outside the European Union.
Mr Martin studied law and had a variety of jobs before opening his first pub – initially called Martin's Free House – in Muswell Hill, north London, in 1979.
There are now around 950 Wetherspoons in the UK and Ireland, including about 70 in Scotland, and the group's founder tries to get round as many of them as he can.
His Cross Keys visit followed stops at the King's Highway in Inverness and Muckle Cross at Elgin. He was moving on later to Aberdeen to call in at both the Archibald Simpson and Justice Mill.
A renowned Eurosceptic, he has argued for many years that Britain should quit the EU.
"All the evidence is that democracy creates prosperity and freedom," he said, adding that "undemocratic" power wielded from Brussels was doing the opposite.
Highlighting recent economic woes in Greece, Spain and Portugal, he said: "It (the EU) is starting to have very bad consequences for millions of people. It's just madness."
Mr Martin's Peterhead visit put him among some of the most Eurosceptic people in Scotland – the result of EU policies which have hammered fishing industry quotas and days at sea.
He said he was aware he may have a sympathetic "audience" in the Blue Toon and he expected a harder time convincing punters to "fight off the tentacles" of Brussels when he visits Edinburgh and Glasgow.
While the looming in-out vote on the UK's membership of the EU has forced him into overdrive on the topic lately, he remains angry about rules created on this side of the English Channel.
Differing treatment for VAT and business rates have created an uneven playing field for alcohol sales in the UK to the advantage of supermarkets, he said.
Mr Martin also said it was right that pubs have had to "bite the bullet" and banish smoking from their premises under legislation introduced in Scotland 10 years ago.
On current plans for minimum alcohol prices north of the border, he said they were unlikely to have much of an impact on pubs as most were already selling drinks at above the 50p per unit floor proposed.
But the move could be "the thin end of the wedge" of policies which may be bad for the licensed trade, he warned.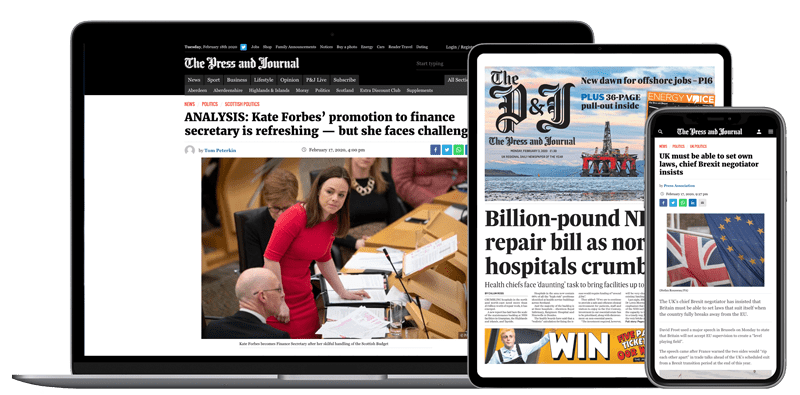 Help support quality local journalism … become a digital subscriber to The Press and Journal
For as little as £5.99 a month you can access all of our content, including Premium articles.
Subscribe