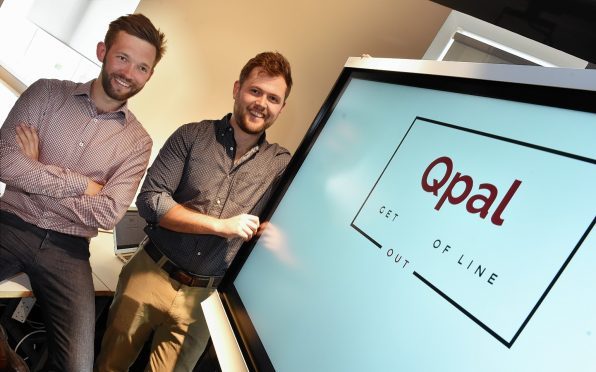 An Aberdeen tech start-up is set to carry out its first official pilot this summer as it seeks investment at the end of this year.
Qpal, which has created an "app" to enhance event experiences for both organisers and attendees, unveiled its technology at an event in Aberdeen's Elevator facility this week.
Founded by Craig Buchan, the technology allows users to make cashless payments at events via contactless technology. He expects this will help reduce queue times and increase event revenues, while also giving event organisers access to data about their customers and sales.
Initially launched as Festiwall just six months ago, Mr Buchan has renamed the fledgling company Qpal in order to widen possible events beyond music festivals to include sporting events.
He has also brought on board data specialist Colin Dawson as the firm's technical director.
Mr Buchan said: "I've been attending live music and sporting events for over 10 years, and have constantly felt frustration over the way operations are handled; long queues, or the inconvenience of carrying cash or buying tokens, can really have a detrimental impact on the very reason you're there – to enjoy the experience.
"I was sitting my flat thinking do I give this a serious go or do I let someone else do it and me come across it in a few years time and rue it for the rest of my life.
"This is only the beginning of the Qpal journey, and we're on a mission to revolutionise the industry on both sides of the spectrum – for organisers and attendees. We've achieved a lot in such a short space of time, and I truly believe we will make an impressive impact in the years to come," he added.
Qpal technology is set to be piloted at a beer festival near Edinburgh in early July. Mr Buchan is also attending the annual Inverness-based XpoNorth for creative industries in the Highlands and Islands this week in an effort to drum up more trials and build a pipeline of work that will impress investors.
Mr Buchan has been developing the business over the last 14 weeks as part of the Elevator Accelerator Programme.
Andy Campbell, Accelerator programme manager at Elevator, said: "Sometimes it can be difficult to spot the entrepreneurs of the great ideas, however with Craig it was very different. When Craig applied for a place on Elevator's Accelerator Programme, it was clear from the outset he had the energy, enthusiasm, passion and determination to succeed. He has worked diligently throughout the programme, and has made fantastic progress with his business idea. I am in no doubt Craig and Qpal will be a tremendous success."