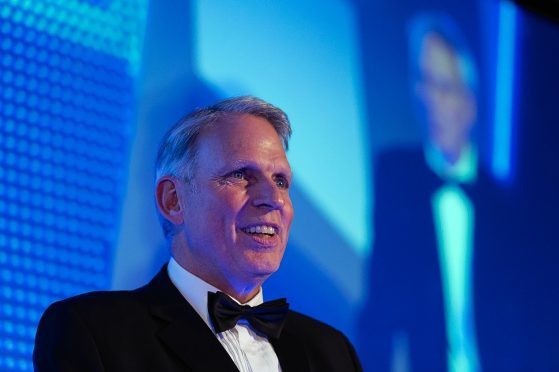 North-east accountant Mike Brown was hailed as a pillar of the region's business community as he received a lifetime achievement gong at the Elevator Awards last night.
Elevator chairman Steve Cook said Mr Brown – founding partner of Aberdeen-based chartered accountancy firm Anderson Anderson & Brown (AA&B) – had shown a devotion to his profession that was second to none, while also giving a lot back to the area.
Attended by more than 400 people, the Elevator Awards honour business excellence, entrepreneurial behaviour and outstanding community contributions by firms across Aberdeen city and shire.
Winners of the annual accolades – previously known as the Grampian Awards for Business Excellence and now in their 17th year – represent a wide range of up-and-coming companies, innovative organisations and firms from sectors including energy, technology, sport, food and drink, beauty and professional services.
Mr Brown, who grew up in Potterton and went to Ellon Academy, joined accountancy firm Whinney Murray in 1977 and worked there for several years before joining BP's finance team.
He was later headhunted by accountancy firm Ernst and Whinney, which became Ernst and Young.
In 1990, he teamed up with two colleagues, Bobby Anderson and Sheena Anderson, to set up Anderson Anderson and Brown (AA&B).
He has also been involved for many years in efforts to encourage local enterprise, firstly with Aberdeen Enterprise Trust and then with the merged Enterprise North East Trust – now Elevator.
Gold Paralympian and world record holder Richard Whitehead was keynote speaker for last night's awards ceremony at the Mercure Aberdeen Ardoe House hotel.
An entrepreneur of the year gong was presented to Portlethen-based businessman Mike Loggie, owner of oil and gas equipment rental firm Saltire Energy.
It is the latest in a string of prestigious awards for Mr Loggie, who won Entrepreneurial Scotland and EY Scotland entrepreneur of the year titles last year. He was also one of 13 entrepreneurs from across the UK to be presented with an EY award in recognition of their achievements in growing successful and dynamic businesses.
Elevator chief Executive Professor Gary McEwan described this year's awards as the best yet.
He added: "Year-on-year we are amazed by the number and quality of the applications we have. This is testament to the incredible businesses and entrepreneurs we have on our doorstep," he said.
"This year has been outstanding – in the face of the current economic downturn, we had a record number of entries and the awards ceremony sold out in record time."
Other winners:
Most promising new business – Linton and Mac
Business success under three years – Abersea Engineering
Business success three years and over – Mackie's of Scotland
Grampian Award for innovation – Churchill Drilling Tools
Employer of the year – Richard Irvin Energy Solutions
The Alick Buchanan-Smith Enterprising Communities Award – Denis Law Legacy Trust/Streetsport
Spirit of Enterprise Award – Sheryl Newman of Appetite for Business
Entrepreneurial supporter – Jai Aenugu of Entrepreneurs Scotland and AskJai.com
Emerging entrepreneur of the year – Barry Park of OEM Group