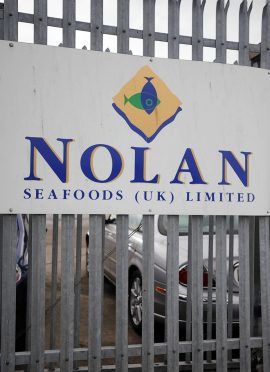 The boss of an Aberdeen fish processing factory has pledged to limit the number of redundancies the firm will make after the loss of a major customer hit the business.
George Nolan, chairman of Nolan Seafoods (UK), confirmed it had entered consultation with staff which is seeking to cut "fewer than 40" jobs at the West Tullos-based factory. Initially the company was reported to be targeting 80 redundancies from the company's 217-strong workforce.
Mr Nolan, chairman of the company's Dublin-based parent company, HJ Nolan, set up the Aberdeen operation in 2002.
In a statement, the company said the job cuts were "due to volatile and unpredictable salmon and white fish market conditions and the loss of a major customer contract at short notice".
It added the company was "exploring a number of options to minimise the impact on the workforce and to ensure the short and long term viability of the business".
Mr Nolan said: "We are communicating fully with our staff and working with all representatives to ensure that employees receive as much information and support as possible during this difficult period.
"The company remains committed to providing quality service levels to our existing customers while exploring opportunities to develop new business."
The firm has struggled with rising costs in recent years, which has cut into profits.
Last year it said a 74% slump in pre-tax profits had been "extremely disappointing but not unexpected" – despite a rise in turnover to £31.8million in the year to the end of March 2015.
The family-owned company was founded in 1912.