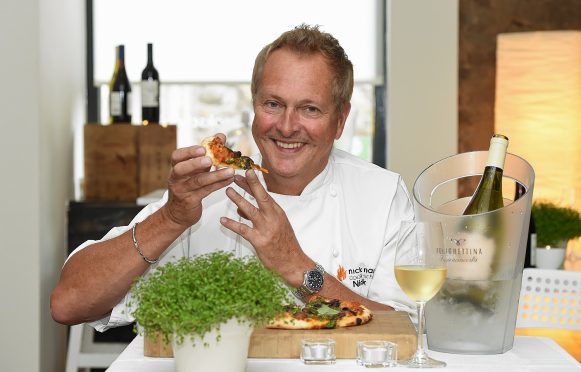 One of Scotland's best known chefs, Nick Nairn, has launched a new pizza and wine bar at his cook school and cafe in Aberdeen.
The owner aims to use as many ingredients as possible sourced from local suppliers.
Even the mozzarella is from a Scottish buffalo herd, while the beers on sale are from local craft brewer Six Degrees North.
Wines are hand-picked by Mr Nairn, with some help from Doug Wood of Scottish merchant WoodWinters.
"This is a bit of a departure from my fine dining roots but something that has been a real labour of love," Mr Nairn said.
He added: "It's been fun to have the chance to experiment with some less familiar ingredients such as Nduja sausage, which hails from the Calabria region in Italy and has a fiery flavour that's just a bit more interesting than salami.
"It's also an opportunity to reinvent some of the classics."
The new addition to the cook school in Back Wynd – in space previously used for retailing – comes about four-and-a-half years after the site opened to the delight of foodies across the north-east.
Previously St Nicholas Kirk hall, the building underwent a £500,000 transformation in advance of the official opening in May 2012.
The Aberdeen site and another in Port of Menteith, near Stirling, run a variety of courses lasting from two hours to one-day and cover a wide variety of skills and cuisines.
Mr Nairn opened his first restaurant at Braeval, near Aberfoyle, in 1986 and quickly became Scotland's youngest Michelin-starred chef.
He went on to run a successful restaurant in Glasgow and achieve widespread popularity on the back of appearances on TV shows including Wild Harvest and Ready Steady Cook.
In 2000, he opened his cook school at Port of Menteith and since then more than 60,000 people have passed through its doors.
The TV career has continued alongside his business interests – he is currently in Paul and Nick's Big American Food Trip, with friend and fellow chef Paul Rankin – and he has also been working with the Scottish Government to improve cooking and eating habits around the country.