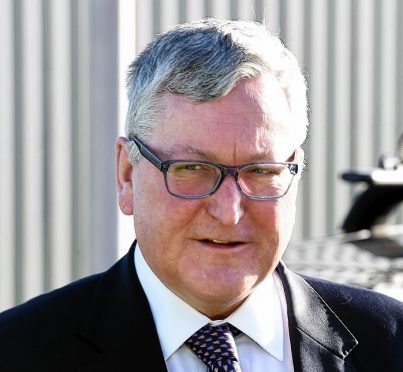 The Scottish Government and EU have delivered a £4million-plus boost to fishing industry projects around the country.
Announcing the latest injection of topped-up European and Maritime Fisheries Fund (EMFF) cash for the sector, Fishing Minister Fergus Ewing said it would support 56 projects contributing to the responsible management of fisheries and marine ecosystems.
One of the largest grants among payouts totalling £4.1million sees SFF Services, the commercial division of the Scottish Fishermen's Federation (SFF), getting £1.08million to cover the cost of a second phase of trials of innovative new fishing nets.
SFF chief executive Bertie Armstrong said: "In recent years, our fishermen have been pioneering innovative new types of selective gear to help reduce unwanted bycatch.
"This welcome funding will assist this latest fishing industry led initiative in maximising the potential of these new net designs, which in turn will aid fish stock conservation."
But the biggest grant, worth more than £1.7million, is for St Andrew's University's collaborative project to develop a new system for collecting and analysing data from the inshore fishing fleet.
About three-quarters of the total value of payouts is part of a second round of EMFF funding.
Mr Ewing, visiting Dunbar, said it highlighted the benefit of continued EU membership for Scotland's fishing and coastal communities.
He added: "This £4.1million investment will provide crucial support to businesses, allowing them to upgrade technology and buy new equipment to maintain and enhance the sustainability of the sector, protecting and creating jobs.
"This is an example of why EU funding is essential as it will help the sea fisheries sector improve the quality of its products and help it develop more environmentally friendly methods.
"In the absence of clarity from the UK Government on the impact of the EU referendum vote on EU funding we will do all we can to champion our shared interests and provide reassurance to fishing communities."
Projects across the north and north-east that have secured funding range from new toilets and a shower area at Kudos Fishing in Peterhead to the private purchase of a boat in Shetland.