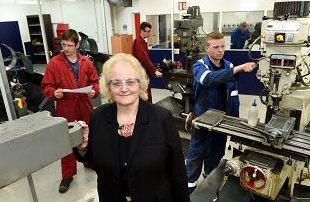 A leading vocational skills trainer has said employers should be given more incentives to take on apprentices.
June Jones, managing director of Dyce-based ITCA, warned urgent action was needed to address "short-sighted" cutbacks by downturn-hit firms.
Unless there was a revival of young people being taken on and trained in the workplace, the north-east faced a serious skills gap within two years, she said.
And parents had to be persuaded to abandon "old fashioned" views that doing an apprenticeship meant leaving formal education behind.
The former teacher, who has run the training outfit for 10 years, said 2016 had "definitely been one of the most challenging years".
Engineering apprenticeship starts have slumped more than 90% from around 60 in a normal year to just five.
While other areas such as logistics had become more buoyant and ITCA still had 200 young people and 30 firms on its books, she said, fresh measures were vital.
"There has been a huge downturn and I can just see a skills gap in the years ahead because this is the second year that the number's been low.
"What they are saying now is 'sorry, we can't take an apprentice because we've got no skilled personnel to mentor them'.
"It's short-sighted. Where is the future?"
She went on: "There needs to be some sort of employer incentive and some more flexibility in the training programme that if they are made redundant they can come in full-time and are not just cast aside and left until they can find another employer."
Parents and schools were worsening the problem by encouraging more and more pupils to stay on at school to see out the downturn, she suggested.
"They can't stay at school forever, they can't go college forever. They have got to get into the real world.
"An apprenticeship is something you will always have. It gives you a grounding for the rest of your life.
"Just because they do an apprenticeship, it doesn't have to be the end of their learning. They can go on if they want to and the best thing is they have all the practical abilities as well.
"There are quite a number of young people who have done their apprenticeship, been in employment and then their employer will put them through university if that's what they wish.
"They can use the apprenticeship to get credit points for university. And there are graduate apprenticeships out there as well."