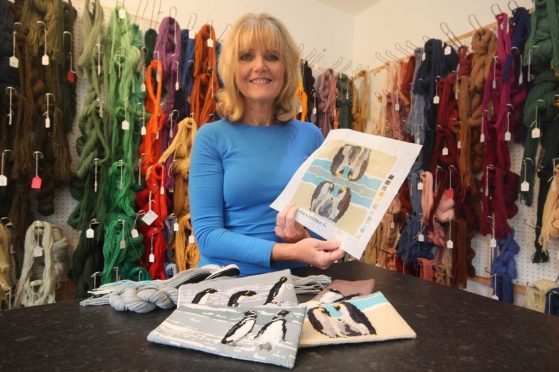 An Aberdeenshire company that makes tapestry kits has struck a deal to sell penguins to the Falklands.
Tapestry design and manufacture business Cleopatra's Needle, based in Kincardine O'Neil, near Aboyne, is exporting its first order of penguin kits to the islands as part of a collaboration with the Harbour View Gift Shop in Stanley.
Cleopatra's Needle owner Lyndsay MacEwen was contacted by the gift shop's proprietor in April and asked to design tapestry kits of the king, gentoo, rockhopper and Magellanic penguins.
The kits contain everything required to make a spectacle case or mobile phone cover.
Ms MacEwen said: "We were delighted to be asked to design and manufacture the penguin tapestry kits and have worked closely with (Harbour View owner) Alison Howe over the last five months to make sure we captured the character of the world famous penguins in the tapestry kits."
Ms Howe said: "We have been recognised as the best penguin shop in the South Atlantic due to our wide range of unique penguin gifts.
"We like to originate our own designs to sell during the austral summer to the many tourists on visiting cruise ships who come to see the islands and our penguins.
"Having purchased other kits from Cleopatra's Needle, which are always beautifully presented, we chose to work with them to design our penguin tapestry kits.
"We always receive quick and personal service, and Lyndsay and her team have done a splendid job with our penguins."
Cleopatra's Needle, which was established in Scotland in 1991, has more than 150 different tapestry kits to suit all abilities.
The company supplies trade customers including John Lewis, Liberty of London and The Courtauld Gallery London, as well as many independent craft shops and online businesses from Japan to Australia and the US. It also sells direct via its website.