Scotland's fishing industry will benefit from deals expected to deliver additional catch opportunities worth around £45million following annual quota talks in Brussels.
The overall package agreed just before 1am today included increased quotas for 16 out of 23 key Scottish stocks, such as cod, saithe and mackerel.
Deals negotiated over the past two days also included increases worth £12million for prawns and £5million for monkfish.
The traditionally fraught end-of-year Fisheries Council has a habit of keeping everyone up late, and the latest edition continued the trend.
Scottish Fisheries Secretary Fergus Ewing said: "The fishing industry is a vital part of our rural economy which is why it's good news that we've secured crucial increases for the majority of our key species.
"To achieve improved deals for 16 out of 23 of our key stocks is a very satisfactory outcome.
"I'm delighted that our long-standing calls to give vessels greater flexibility around where they can fish have been answered, and from 2017 our fleet will be able to make use of this new provision.
"In these uncertain times I'm pleased that issues around Brexit did not compromise our negotiating position.
"We worked constructively to put people's livelihoods first and, founding on the scientific advice, helped secure a good deal that can be well received by Scots fishermen."
Many of the quotas for Scotland's key species were agreed in earlier talks with non-EU countries, including Norway and Faroe, but these deals still needed rubber stamping at this week's Council meeting.
Mr Ewing was in Belgium's capital arguing the case for generous top-ups and flexibility to help soften the blow of an extension of the landing obligation, or discard ban, from the start of next year.
He was also trying to secure new measures to reduce the threat of "choke" species – those for which there is no quota left – filling skippers' nets amid fears that boats could be tied up in port because of them.
With Brexit on track to make the UK's participation in future negotiations between EU member states redundant, it emerged yesterday that two major Scottish fishing organisations have already pulled out of EU industry body Europeche.
The Scottish Fishermen's Federation (SFF) and Shetland Fishermen's Association (SFA) are no longer part of the group.
SFF chief executive Bertie Armstrong said: "With Brexit now looming, the focus of our work in the European arena will inevitably change, which is why we have decided to withdraw our membership."
SFA executive officer Simon Collins said: "Our members believe that the Brexit vote made it inappropriate . . . and that we should focus instead on obtaining the best possible deal for our industry in a radically different political landscape."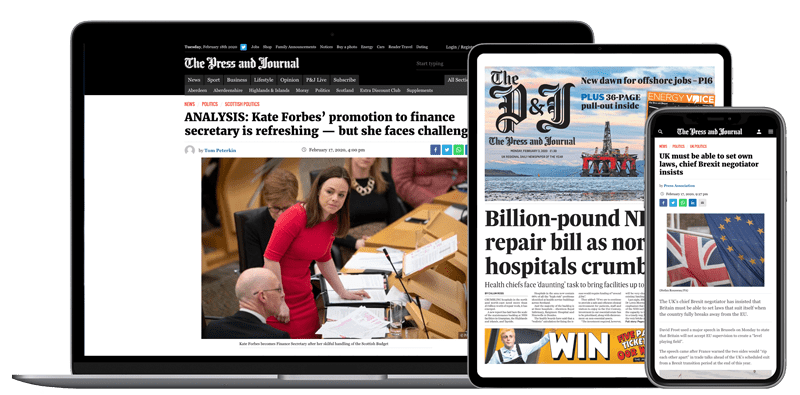 Help support quality local journalism … become a digital subscriber to The Press and Journal
For as little as £5.99 a month you can access all of our content, including Premium articles.
Subscribe