Growing confidence in the future of Scottish fishing has led to a £250million investment in new boats.
The vessels, mainly replacements for older stock, are currently being built at shipyards at home and overseas.
Scottish White Fish Producers' Association chief executive Mike Park said it was a sign of a buoyant mood within the industry after years of save cuts to quotas and days-at-sea.
Speaking on the sidelines of the December Fisheries Council in Brussels, he added a leaner fleet and healthy fish stocks meant the sector was well-placed to benefit from new opportunities arising from Brexit.
Mr Park said: "There are 30 new vessels on order just now. That is almost unprecedented in the industry.
"The last time we saw anything of that ilk was back in the 80s."
A consolidated industry after large scale decommissioning in the early 2000s and a "marketplace which is more than willing to accept our product" are now helping the sector get back on its feet, he said.
He added: "We didn't build any boats at all for a lot of years. Those currently on order represent an investment of around £250million.
"For a relative small industry, that is quite a significant investment."
The new builds are supported by banks which are also confident about the fleet's stability and prospects, despite the uncertainty of Brexit, he said.
Meanwhile, David Leiper, chairman of processors' trade body the Scottish Seafood Association, said Brexit offered the potential to deliver a real opportunity for growth across the wider industry.
Mr Leiper added: "The current situation is encouraging. There is massive investment currently taking place by the catching sector, along with healthy fish stocks, which is down to the hard work during the hard times suffered over many years.
"With Brexit delivering control of the exclusive economic zone around our coast, this in turn will lead to even better fisheries management that will help ensure there is more fish to catch.
"Hopefully, the investment currently being undertaken by the catching sector will be mirrored by the processing sector.
"Brexit also provides the opportunity to develop new overseas markets.
"Given the demand for high quality Scottish seafood in countries such as Spain and France, it seems highly unlikely that the final Brexit trade deal will hinder the trade of our fish and shellfish."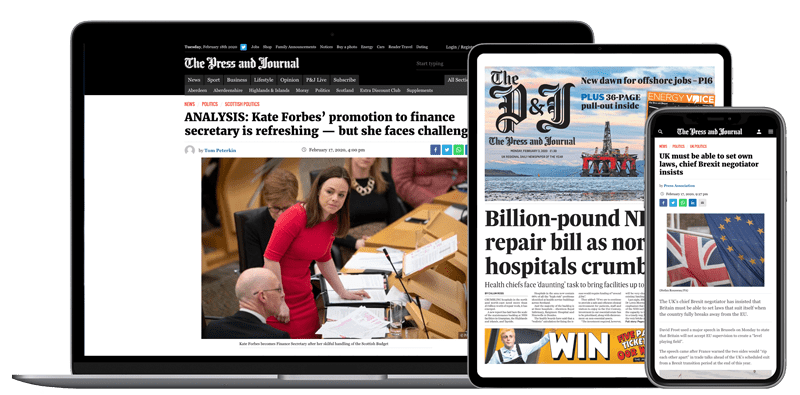 Help support quality local journalism … become a digital subscriber to The Press and Journal
For as little as £5.99 a month you can access all of our content, including Premium articles.
Subscribe