A bumper £47million bonus for Scotland's fishing fleet has arrived in time for Christmas after two days of quota talks in Brussels.
A deal struck in the early hours of yesterday gives the industry tonnes of extra fish and more flexibility to catch it.
The package also includes measures to ease some of the burden of the ban on discards, which takes in more species from the start of next year.
The Scottish Government revised its initial £45million estimate of the economic impact yesterday morning after scrutinising all the implications of the complex deal, which raised quotas for 16 out of 23 key stocks.
Hailing his first EU December Fisheries Council since taking over from Richard Lochhead, Fisheries Secretary Fergus Ewing said there were few, if any "real downsides".
He was particularly satisfied to get across the industry's concerns about unwanted "choke" – fish which must be landed even after its quota is exhausted – stifling operations in the white-fish sector.
A decision announced by UK Fishing Minister George Eustice during this week's talks will allow recently acquired Arctic cod quota to be used in future swap deals, helping fishers catch more species such as Atlantic cod, haddock, whiting and saithe.
Mr Ewing said the enlarged discard ban, though necessary, was bound to create a challenge during 2017.
And he revealed there was growing pressure on the European Commission to extend its deadline for the ban to cover all species beyond 2019.
But he added: "The commission is immovable on this, which just exemplifies why fishermen are frustrated about Europe."
Mr Eustice said the deal coincided with a return to good health for an industry battered by years of savage cuts in quota and days-at-sea.
"It shows the long-term benefits of restraint in fishing activity to protect vulnerable stocks," the UK minister said, adding: "The mood is positive and the decision to leave the EU means fishermen can see light at the end of the tunnel."
The talks handed Scots' fishers hefty quota increases for North Sea prawns (46%) and monkfish (20%), worth £12million and £5million respectively.
Other quotas going up include North Sea cod (17%) and whiting (17%), both of which come under the discard ban next year and are benefiting from top-ups to help fishers cope with the new rules.
North Sea saithe and hake quotas are up by 53% and 12% respectively.
But North Sea haddock quota is down by 46%, partly to correct a past error in scientists' assessment of the stock, with herring in the area cut by 7%.
For the west of Scotland fleet, haddock is down 47% but the quotas for saithe, ling, megrim and monkfish all increased.
West coast prawn and herring quotas are unchanged in 2017, while 45% more haddock can be caught near Rockall.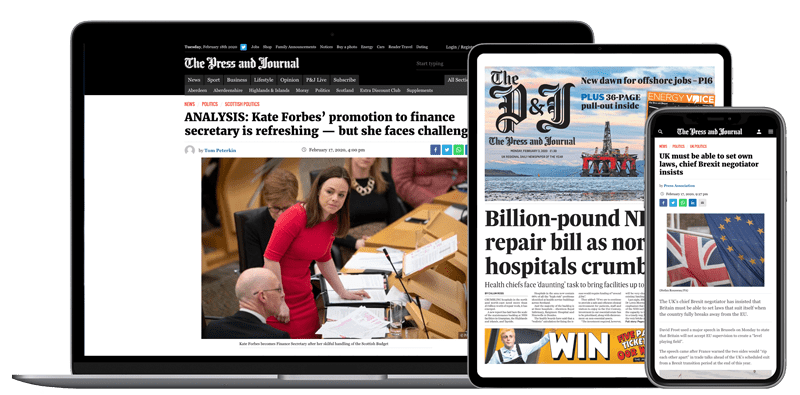 Help support quality local journalism … become a digital subscriber to The Press and Journal
For as little as £5.99 a month you can access all of our content, including Premium articles.
Subscribe