Royal Bank of Scotland (RBS) says Scotland's economy continues to improve, apart from the oil and gas downturn-hit north-east.
In its latest quarterly Business Monitor, the Edinburgh-based banking giant predicts a positive start to the new year for many firms north of the border after a "decent close" to 2016.
Transport and communications performance was particularly strong during the three months to November, with 24% of companies in these sectors reporting an increase in total business volumes, the report says.
Political uncertainty is not impacting on capital investment across the country, with spending now at its highest in two years, though exports continue to struggle, it adds.
The report is based on survey of 400 firms by Strathclyde University's Fraser of Allander Institute (FoAI) .
More than one-third (36%) reported an increase in the total volume of business during the past quarter, compared with 25% seeing less activity.
A net balance of 9% of firms in the north-east expect volumes to fall over the next six months, with one in five reporting a drop during the past quarter.
Speaking in advance of the report's publication, RBS chief economist Stephen Boyle said the north-east was the one part of Scotland not contributing to a "decent but unspectacular" improvement in the overall economy.
He added: "That is almost wholly attributable to the continuing difficulties in the oil and gas sector."
,
Mr Boyle said there were some signs north-east economic conditions may have stopped deteriorating, but he warned the region was unlikely to see much of an upturn in its fortunes during 2017.
A net plus balance of Scottish firms expect new business volumes to increase over the next six months, with the central belt and Highlands and islands driving this positivity, RBS says.
The report says firms' turnover continued to improve during the past quarter, with more than four in 10 (42%) enjoying a rise. Turnover growth was strongest in tourism, construction and transport and communications.
Just one in eight firms (12%) reported any increase in export activity, down slightly from the previous three months, but a net plus balance of companies expect export activity to rise over the next six months as the lower value of sterling starts to make overseas sales more competitive.
Mr Boyle said: "This Christmas, we can raise a festive glass for Scotland's economy that's more than half full.
"Our businesses are ending the year on a positive note, with solid if unspectacular growth. They expect more of the same in the first half of 2017."
FoAI director Graeme Roy said: "This final Royal Bank of Scotland Business Monitor for 2016 offers some relatively positive news at the end of a challenging year for Scotland's economy."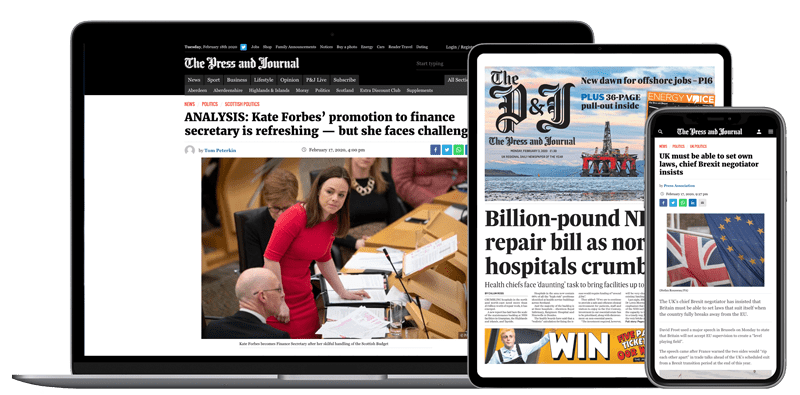 Help support quality local journalism … become a digital subscriber to The Press and Journal
For as little as £5.99 a month you can access all of our content, including Premium articles.
Subscribe