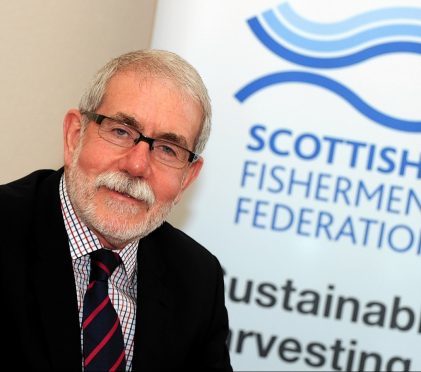 On-board cameras are "no more than a sideshow" to the more pressing challenge of implementing the ban on fish discards at sea, industry chiefs said yesterday.
The Scottish Fishermen's Federation (SFF) insisted fishers were doing "everything possible" to comply with the rules following claims by conservation group WWF the ban is being undermined by poor enforcement.
SFF chief executive Bertie Armstrong said: "No-one hates discarding more than our fishermen, who are making a comprehensive effort to comply with this largely unworkable regulation.
"Fishermen are doing everything possible to adhere to the rules, and industry and government are working closely together to develop more selective types of fishing gear that will reduce discarding even further.
"Installing cameras on fishing vessels is no more than a side show and the presence or absence of them will not solve the problem. The real issue is getting the rules right and the proper refinements in place."
WWF highlighted a halving in the number of Scottish boats carrying cameras, which monitor the fish being caught, since the so-called landing obligation, or discard ban, started its phased introduction in 2015.
It pointed to official figures showing 32 boats carrying cameras under remote electronic monitoring (REM) trials operated by Scottish Government agency Marine Scotland in 2014.
According to WWF, which claims REM – using a combination of onboard cameras and sensors – is "by far the most efficient and cost-effective way" to monitor fishing activities, there are now only 15.
WWF-UK fisheries governance programme manager Helen McLachlan said: "We have significant concerns about the extremely low levels of monitoring and control of the ban.
"For this policy to work, we need to be confident we know what is happening at sea and how much fish is being removed."
REM schemes, where participation entitled fishers to extra quota, officially ended when North Sea cod came under the discard ban at the start of this year.
A Scottish Government spokeswoman said yesterday the absence of any "facility to offer (quota) top-ups" meant there was no longer any incentive for taking part.
She added: "No-one wants to see dead fish being thrown back into the sea – least of all our fishermen – and our fleet has already made good progress to minimise the level of discarded fish in Scotland.
"We are working hard to ensure the ban is implemented in a pragmatic, proportionate and phased way.
"If managed sensibly the landing obligation will be good for Scotland and help the conservation of fish stocks that offer up dependable and sustainable catches for fishermen.
"We need to deploy a range of methods to monitor and control this – cameras are only one method. The details of these will be set out in due course."