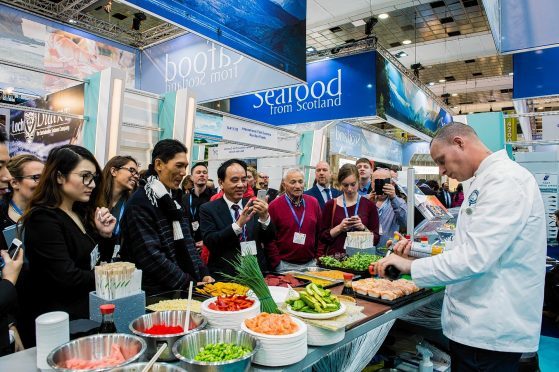 Scottish companies are targeting post-Brexit markets at the world's largest seafood trade show.
The annual mission to secure business in more overseas territories at the Seafood Expo Global (SEG)/Seafood Processing Global (SPG) event in Brussels has been given extra impetus this year by the prospect of the UK leaving the European Union.
North and north-east firms pitching for new orders at SEG/SPG 2017, which kicked off yesterday and runs until tomorrow, include Associated Seafood, Caley Fisheries, Highland Smoked Salmon, International Fish Canners, Loch Duart, Loch Fyne Oysters (LFO), Lunar Freezing and Cold Storage Company, Nor-Sea Foods, The Crab Company (Scotland) Wester Ross Salmon and Whitelink Seafoods.
Scottish Quality Salmon, Scottish Seafarms and the Scottish Salmon Company are all there banging the drum for this country's fish farming industry.
A total of 46 Scottish companies have a presence on the global seafood industry's biggest stage, with 22 of these – firms covering the whole market from shellfish and salmon to white-fish and pelagic species – exhibiting in the show's Scotland pavilion.
With the UK Government poised to start Brexit negotiations with 27 other EU member states, the stakes are high for an industry whose current exports of fish and shellfish to mainland Europe are worth many millions of pounds a year.
Food and drink exports from Scotland last year were worth £5.5billion – a new annual record – and seafood made up about £759million of the total.
Some of this country's leading seafood firms were at a major trade show in Boston last month, trying to break into or grow business in North American markets.
And with food exports from Scotland to Asia rising more than 400% since 2007, this week's event is a massive opportunity to further mitigate the potential impact of Brexit.
The Scottish turnout at SEG/SPG 2017 is up by around 40% on last year, when overall exhibitor and visitor numbers were affected by terror attacks in Belgium's capital.
Trade body Seafood Scotland and Scottish Development International, the international arm of Scottish Enterprise, team up every year to organise the Scotland pavilion.
Natalie Bell, trade marketing manager for Europe, the Middle East and Asia at Seafood Scotland, said: "Seafood now accounts for the biggest rise (26% year-on-year) in food exports from Scotland and there is no sign that demand is doing anything but increasing.
"With buyers wielding global purchasing power present in Brussels, we're putting our best foot forward and aiming high on the order front."
Susan Beattie, head of food and drink at SDI, added: "This is a key show for our industry, attracting buyers from all eight top prospect markets in the Scotland Food and Drink Export Plan."