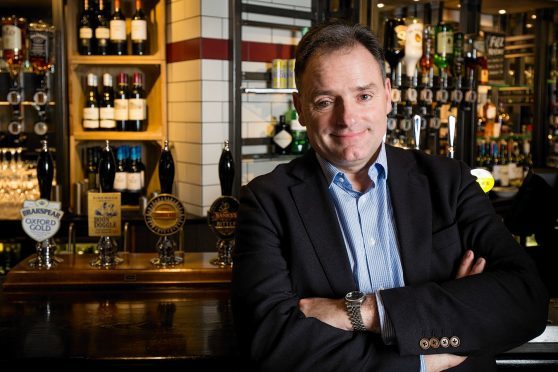 Brewing and pub giant Marston's has said it intends to continue its Scottish expansion drive, with a target of three or four new openings-a-year.
The company, which will open an outlet in Peterhead this summer and another in Inverness later in the year, is also planning to rejuvenate a famous Scottish beer brand after its £55million acquisition of the owner of McEwan's.
Ralf Findlay, chief executive of the Wolverhampton-based company, revealed its continuing Scottish growth plans as it released half-year results showing a 3% rise in underlying revenue to £440.8million in the 26 weeks to April 1.  Underlying pre-tax profit for the period rose 3% to £33.7million.
Marston's also yesterday announced it had acquired brewer Charles Wells bringing brands like Young's and Bombardier as well as McEwan's under the same roof as its existing labels, including Hobgoblin, Wainwright and Lancaster Bomber.
The firm, which owns five breweries and more than 1,700 bars and pub-restaurants across the UK and has around 13,000 employees first moved into the Scottish market in 2013.
Last night Mr Findlay said the company was on course to achieve its target of increasing the number of its Scottish outlets from 13 to 24 by the end of this year or early in 2018.
The pub-restaurant at Invernettie roundabout in Perterhead, which will include a 38-room Marston's hotel, is due to open in July.  Mr Findlay said he expected the opening of its outlet at Slackbuie in Inverness to happen towards the end of this year.
He added:  "We have made an investment of £50million in the Scottish market over the past five years.
"Our future plans are to continue investing in the Scottish market, with three or four new pub-restaurants-a-year.
"Each one will employ around 50 people; most of them young people."
Mr Findlay said the acquisition of Charles Wells, which will complete in June, would help Marston's achieve its aim of entering the Scottish free trade drinks market.
And he said he was "excited" by the prospect of developing McEwan's, which is brewed in Edinburgh.
"I think we can do a lot with the brand to modernise it for today's market," he added.
The Charles Wells acquisition also brings a range of international licensed brands, including Estrella, Damm, Erdinger and Kirin to Marston's and Mr Findlay said the firm was looking forward to working with its new overseas partners.
Marston's said it has had a "solid start" to the second half of its financial year and is confident it will reach its annual targets.