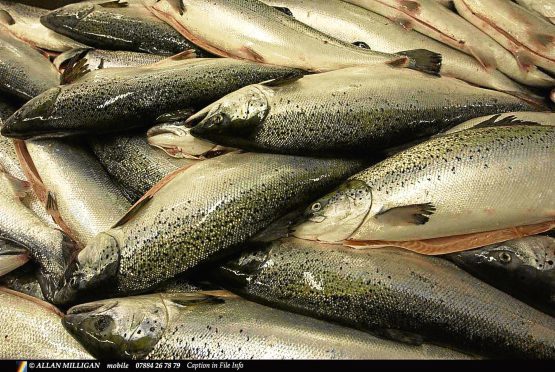 A strong performance by its operations in Scotland has helped lift second-quarter profits at international fish farming giant Marine Harvest to a record high.
Figures released by the Norwegian group showed operational earnings before interest and taxes (ebit) from its salmon of Scottish origin leapt to £52.8million in the three months, from £4.6million in the same period last year.
The company said its efforts to tackle sea-lice and amoebic gill disease, which had improved survival rates and the size of fish produced, were largely responsible for the increase.
High prices and a healthy market were also cited as factors.
At 39,200 tonnes, the total amount of salmon produced in Scotland was up 12% on the second quarter of 2016, although the company noted it had expected a slightly higher increase.
Overall, second quarter operational ebit for the Bergen-based company, which also has salmon farming and processing activities in Ireland, Norway, Chile, Canada, and Faroe, rose to £182million, from £137million year-on-year.
The record figure took its half-year total to £384million, compared to £240million for the first six months of 2016.
Second-quarter operational revenue at the company was £814.5million this year, taking its half-year total to £1.6billion, increasing from 2016 figures of £766.6million and £1.5billion respectively.
Oslo Stock Exchange listed Marine Harvest's total operational ebit last year was £644.7million, from revenue of £3.2billion.
Marine Harvest Scotland (MHS) managing director Ben Hadfield said yesterday "substantial investment" was starting to pay off in significant improvements in survival rates and the growth of salmon.
The company successfully introduced wrasse and lumpsuckers – known as "cleaner fish" – to reduce sea-lice levels and plans to invest £3.5million to farm the species.
Other measures included the use of thermolicer and hydrolicer equipment and installing skirts around salmon farm nets.
Mr Hadfield said: "We were determined to tackle these issues and have undertaken a massive investment programme. This is a great result for MHS, our shareholders, our staff and local communities. These results have been achieved due to a lot of hard work focused on specific targets such as reduced sea-lice numbers, more efficient growth and lower mortality levels."
MHS employs around 700 people at 49 sea farms and nine freshwater sites in the Outer Hebrides, Skye, Wester Ross, Lochaber and Argyll, plus another 500 at a salmon processing facility in Rosyth. The company recently submitted applications for farms of the coast of Rum and on Skye.