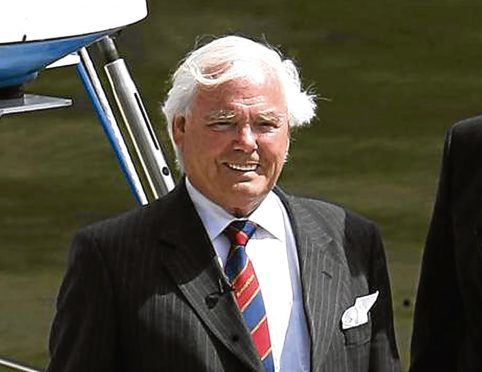 Profits climbed by more than 11% and turnover hit a new £3.66billion high at Scottish car sales and rental giant Arnold Clark in the last full year before the death of its "inspirational" billionaire founder.
Annual accounts for the firm, released by Companies House, reported a "strong year of growth" and contained a fulsome tribute to Sir Arnold Clark, who died in April, aged 89.
Launched by Sir Arnold in his home city of Glasgow after he left the RAF in 1954, the business now operates from 170 outlets, including branches in Aberdeen, Inverness, Peterhead and Elgin, employing more than 11,000 staff and representing 24 vehicle manufacturers.
Writing in his foreword to the figures detailing the company's performance in 2016, chief executive and group managing director Eddie Hawthorne described its founder as "a truly inspirational business leader, entrepreneur and influential public figure".
He added: "His unsurpassed work ethic, strong family values and charismatic leadership shaped the lives of many who came into contact with him both within his business and beyond, and resulted in him building a market-leading automotive retailer with its heart in the community it serves."
Mr Hawthorne added that the company's growth over the past 63 years had been achieved by "sheer hard work, continual re-investment and ensuring that customer service is at the forefront of all aspects of the business."
The chief executive said that growth had continued last year, "despite the uncertainty caused in the UK by the vote to leave the European Union".
Pre-tax operating profits increased by £14.1million to £135.8million in 2016, from the previous year, and turnover rose by 9.2% to surpass 2015's record total of £3.35billion.
Used car sales were up 12.7% to 197,842 in the period, although the number of new models sold fell by 4.3% to 80,203.
In what was described as "a difficult year for the contract hire industry," the group's vehicle management and daily rental subsidiary, Arnold Clark Finance, saw pre-tax profits decline to £12.5million, from £15.5million previously, and turnover decrease by 2.1% to £547.3million.
During 2016, Arnold Clark opened a new dealership in Aberdeen's Girdleness Road, replacing a service centre that was destroyed in a blaze in 2015.
The replacement facility comprises a 30-bay workshop, MOT viewing area and Ford commercial sales and service operation.
More recently, the group has moved its Kia franchise in the Granite City to new premises in Hillview Road.
The company, which took over Ness Motors in Inverness in 2015, continued to make acquisitions last year, including dealerships in Stirling and Bathgate and an eight-acre storage and distribution compound in Kidsgrove, Staffordshire.
Expanding into Nottingham for the first time, it opened its 22nd Motorstore outlet in the East Midlands city last October.
Since the end of its financial year on December 31, it has launched another branch of the chain in York, which was also new territory for the business. It is currently developing a Motorstore in Wakefield, Yorkshire, after acquiring a seven-acre, 400-vehicle site there, in December.
In April 2016, the group moved its head office from "three ageing facilities in Glasgow" to a new bespoke facility in Hillington, near Glasgow Airport, where more than 600 people now work. The firm said that having all its headquarters staff based in one building had already brought "substantial benefit".
Looking to the current year's trading in the annual report, Mr Hawthorne said that while early trading results had been "encouraging," the firm anticipated the new car market would remain "relatively flat", while there would be "modest underlying growth" in sales of used models.
He added: "Sir Arnold's entrepreneurial ideals are ingrained in our business. His philosophy continues to inspire everyone who works in the business and will be the cornerstone of its future growth and continuing success.
"His guidance and wisdom will be sorely missed by all of the directors and staff and, to mark his passing, the directors and staff wish to make 2017 our most successful year ever in retail car sales."
Mr Hawthorne also paid tribute to the founder's longstanding commitment to training in the motor trade.