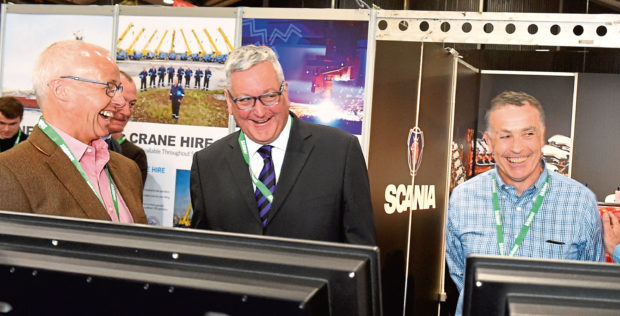 Fisheries Minister Fergus Ewing batted away rumours of a looming cabinet reshuffle at Holyrood during his visit to the Skipper Expo International Aberdeen show yesterday.
Speculation at the event was focused on his own role as cabinet secretary for the rural economy and connectivity.
Responding somewhat cryptically to the gossip doing the rounds in the show hall, Mr Ewing said: "I don't play cards".
He was much keener to discuss the future of fishing after Brexit, insisting he was committed to doing whatever he could to secure the best possible deal for the industry in Scotland.
The recent deal on the Brexit implementation period, which enraged fishers by effectively keeping the UK in the Common Fisheries Policy until the end of 2020, underlined how previous UK Government pledges for fishing would not be fulfilled, he said.
And he called the agreement to leave the UK on the sidelines of key EU fishing talks as "the worst of all worlds".
Mr Ewing added: "The important thing for me is that the Scottish fishing sector gets the best possible outcome from Brexit.
"We need to secure control of our waters and of the fish that are ours to catch.
"There must be a far greater catching opportunity over the coming decades, supporting businesses both onshore and offshore."
While no-one really knows what shape Brexit will take, it will mean an exit for the UK from the much-despised Common Fisheries Policy.
Mr Ewing said the "defective" policy should be scrapped but it was important for the UK to remain in both the single market and customs union.
Scotland's catch sector and onshore processors needed continued access to migrant workers and key European markets, both of which are at risk from Brexit, he said.
"We don't want to see tarriff barriers which could delay the transportation of a perishable product," he added.