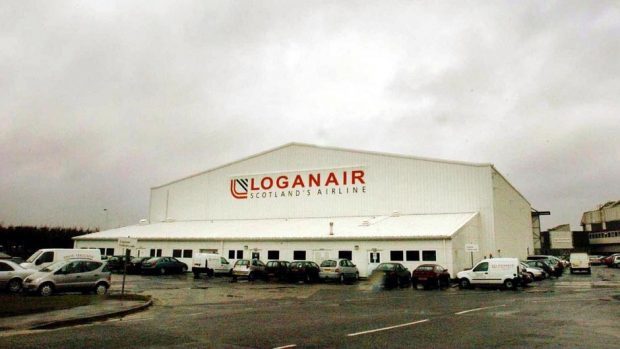 An air fare war on lifeline routes to the Scottish islands has left Loganair nursing annual losses of nearly £9 million.
Bosses at the airline said yesterday they were shocked when former franchise partner Flybe went head-to-head on the services.
Chairman David Harrison said Paisley-based Loganair expected to take a hit from one-off costs caused by its break-up with Flybe last autumn.
He added: "It was somewhat to our surprise that Flybe decided to continue some of the routes and offer competing services.
"We had always been clear that these routes were not big enough to support competing airlines – there is simply not enough demand.
"The impact was that both airlines have suffered significant losses."
Loganair said the "financially disastrous" price war, affecting six routes, including five in its Highlands and islands heartland, cost it £6.8m.
Flying "solo" and re-establishing the airline's brand and back-office functions brought a bill of £2.98m.
Delays in newly-negotiated codeshare agreements (in which two or more airlines share the same flight) with partner airlines and travel agency booking channels going live resulted in a loss of bookings via these platforms, at a cost of £2.09m.
But Mr Harrison said Loganair was trading profitably again despite rising fuel costs and the weak pound.
He was speaking after the airline reported pre-tax losses of £8.93m for the 12 months to March 31 2018, against profits of more than £3m a year earlier.
Turnover rose to a record £110.65m in the latest period, from £103m previously.
Loganair said it would have made pre-tax profits of £2.9m in 2017-18 without the one-off costs.
Passenger numbers rose by 6.2% to a record 812,541, but the load factor – the percentage of seats filled on scheduled flights – fell from 62.8% to 59.8%, due to overcapacity on routes with Flybe competition.
The percentage of flights operating on time – departing within 15 minutes, the industry standard – was 77.9%, ahead of the UK average.
With 51,596 flights and four new routes added during the year, Loganair is now the UK's seventh largest airline.
Mr Harrison said: "This year's results bring to an end 17 consecutive years in profit for Loganair."
Flybe's last competing service, with new franchise partner Eastern Airways, ended in February.