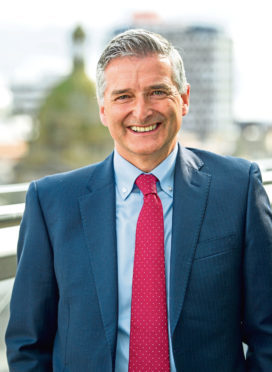 A senior partner at accountancy firm EY has been unveiled as the new chairman of the Institute of Directors (IoD) Scotland.
The business group said yesterday it had appointed Aidan O'Carroll to the role.
Mr O'Carroll, who is responsible for EY's global compliance and reporting business, takes over from former Scottish Government cabinet minister Susan Deacon.
Ms Deacon stepped down as chairwoman at the end of her three-year term in office.
The new chairman will also take up the Scottish seat on the IoD's UK Council, succeeding Ian McKay.
IoD Scotland said Mr O'Carroll was bringing with him a "wealth of leadership experience and involvement in business throughout Scotland and internationally".
Executive director David Watt added: "We look forward to working with Aidan to further grow the IoD in Scotland, and to drive change across Scotland's business sector."
Ms Deacon said: "Aidan is an ideal successor in the role of IoD chair.
"He has his finger on the pulse of business, and is wholly committed to Scotland, its growth and its place on the international stage. I wish him every success over the next three years."
Mr O'Carroll signalled his intention to communicate with the IoD's members to find out what they want most from the organisation.
The new chairman said: "The IoD can make a real difference to individuals and their organisations in helping to deliver organisational goals and contribute, in a wider context, to the future success of Scotland.
"The role of the IoD and myself as the new chair is to support them all the way."
"The opportunity to be a part of an organisation that can help bring greater success to Scotland, shape our economic proposition, engage with government to promote growth, and bring together diverse views on the common theme of leadership, is hugely exciting. I look forward to getting started."
Mr O'Carroll will be on the podium at IoD Scotland's next annual conference, being held at Gleneagles on November 1 and 2.