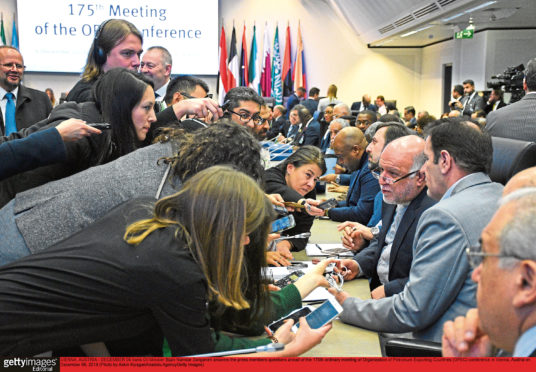 A backstop could be placed on the recent oil price freefall if traders are convinced Opec proposals to cut global production are "for real", according to a top petroleum economist.
The cartel yesterday agreed a cut, which will range between 0.5 million and 1.5 million barrels per day, however the actual scale of it will depend on the outcome of discussions with Russia today.
Opec has been under pressure to curb production, with the price of the Brent crude benchmark dropping more than $10 in the last month.
De-facto leader Saudi Arabia said a 1m barrel drop would be acceptable.
Professor Alex Kemp, a petroleum economist from Aberdeen University, believes a drop in global production within that range will facilitate a "rebound" in the oil price.
He said: "A cut between one million and 1.5m barrels per day would have an effect on the price if the market makers were satisfied that they were actually going to do it.
"If there's some reassuring noises from Russia that they will contribute to it, that would show it is a serious proposition.
"There would be some rebound in the price if the market makers were satisfied that this is for real. It could come up by a few dollars."
Opec is meeting in Vienna and will continue talks tomorrow along with Russia and other non-members.
Professor Kemp believes the country "may well be willing" to assist, however the scale of the cut remains to be seen.
Analysts have said the 1m barrel figure would be a "token gesture" as the kingdom aims to balance conflicting motives of propping up prices and appeasing the US.
President Donald Trump wants even higher oil production to offset lower production from Iran, Opec's third largest producer, due to US-imposed sanctions.
Jack Allardyce, analyst at financial services firm Cantor Fitzgerald, said: "As ever with Opec and the wider producer group, the devil will be in the detail in terms of overall scale, reference point and quotas."