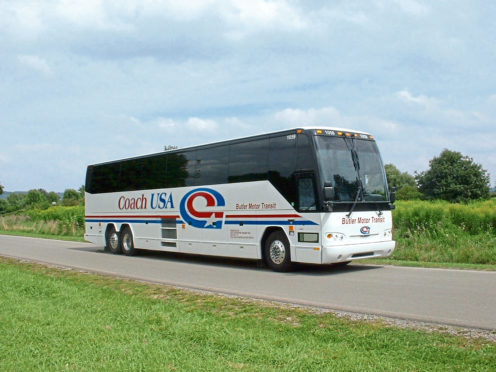 Scottish transport giant Stagecoach Group is selling its North American operations to US-based private equity investors in a deal worth £215 million.
It comes just weeks after Stagecoach first revealed talks to sell the business after an £85.4m writedown in the division sent the group tumbling to half-year losses.
The proceeds of the sale will be used to reduce Perth-based Stagecoach's net debt, which at the end of October totalled more than £460m.
It is expected the sale to an affiliate of Los Angeles-headquartered Variant Equity Advisors will complete by the end of the current financial year to April 27 2019.
Stagecoach's North America arm operates bus and coach services.
It provides megabus.com inter-city coach services, commuter services, airport transportation, sightseeing tours, charters and contract services across the US and Canada.
The division is one of the largest ground transportation operators in North America, with about 4,500 employees and more than 2,000 buses and coaches.
Stagecoach said earlier this month its North America business was profitable but suffered a 3% like-on-like drop in revenue during the six months to October 27.
Bosses at the company see the disposal as an opportunity to "realise an attractive valuation for the business", while refocusing the group's portfolio on the UK.
Stagecoach chief executive Martin Griffiths said: "During our two decades in the North American transportation market, our success included reinvigorating the inter-city coach sector and delivering growth with our innovative megabus.com brand.
"We have a great team of people who have ensured we have played a leading role in the development of public transportation in the United States and Canada.
"The sale of our North American operations will allow management to focus more closely on the significant opportunities for growth in the UK."
Mr Griffiths added: "We have strong bus and rail operations in the UK, where public transport has good prospects as the clear solution to the challenges of increasing road congestion and poor air quality."
Stagecoach has three core divisions – UK bus, rail and North America – as well as a number of joint ventures.
The London-listed company transports more than three million passengers a day and employs 34,500 people across its operations either side of the Atlantic.
It is the UK's biggest bus and coach operator, with major city bus operations in London, Manchester, Liverpool, Newcastle, Hull, Sheffield, Oxford and Cambridge, as well as inter-urban services.
Stagecoach also runs low-cost Megabus coach services.
Rail operations include the East Midlands Trains network, while Stagecoach and Virgin Group jointly run the west coast inter-city rail franchise.
Transport analyst Gerald Khoo at Liberum said the sale of the US arm was "sensible", but came at a "disappointing" price.
"The group needed to get big or get out," Mr Khoo added.