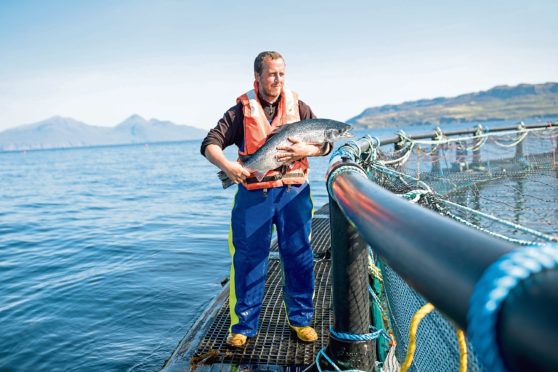 Strong demand and high prices delivered "great earnings" for Mowi during 2018, the global fish farming giant said yesterday.
Mowi, which is the new name for Marine Harvest, reported its "second-best year ever financially for the group".
Pre-tax earnings for 2018 came in at £641.4 million, up from £457.7m the year before, while operational revenue and other income rose by 4% to £3.34 billion.
Chief executive Alf-Helge Aarskog said: "2018 was a very good year for Mowi.
"Strong demand for salmon and high prices in all markets resulted in great earnings for the company.
"I am proud of all my colleagues who work hard to produce healthy and tasty seafood for consumers all over the world. They have all contributed to the strong results."
Mr Aarskog also hailed the success of the company's cost-cutting during 2018, with savings totalling £53.4m achieved. "This will continue into 2019, with a new 30m euros (£26.3m) global cost and procurement improvement programme", he added.
The group's annual figures were boosted by a strong final quarter performance in Scotland, where salmon operations achieved £23.9m in operating earnings before interest and taxes (ebit).
This was up from £13.5m a year earlier, despite a 9.4% drop in the total volume of fish harvested – by gutted weight – to 11,771 tonnes.
Mowi said its "very good price achievement", in Scotland was helped by reduced costs due to improved biology, as well as "good growth and significantly higher biomass – the volume of salmon in its fish farm cages – in the sea.
Final quarter operating ebit across Mowi's whole business, also including operations in Norway, Ireland, Canada, Chile and Faroe, totalled £186.5m – up by 18% on the Q4 2017 figure of £158.2m.
Full year operating ebit for 2018 came in at £659.2m, which was down by about 5% from £693.5 the year before on 6% lower harvest volumes.
Salmon of Norwegian origin earned the company £2.14 per kilogramme (2.2lbs) in operating ebit in the final quarter, up from £1.55 a year earlier, while the group's Scottish and Canadian origin fish netted £2.03 (up from £1.04) and £1.24 (86p) respectively.
Mowi is the largest salmon farmer in Scotland, with more than 1,250 employees producing fish for main markets in the UK, France, the US, Poland and China.
The company's Scottish operations include three hatcheries, five freshwater loch sites and 49 sea farms, situated in the Western Isles, Skye, Argyll, Wester Ross and Lochaber.
Globally, Mowi is one of the largest seafood companies and the biggest producer of Atlantic salmon.
The company employs more than 13,000 people in operations suppliying farmed salmon and processed seafood to more than 70 markets worldwide.
Its new name was unveiled late last year, with the company saying it reflected the pioneering spirit of its earliest days.
The group has its roots in Norwegian salmon farming – under the name Mowi – in 1964.