It has been almost 50 years since the Scottish Stock Exchange merged with the LSE, forcing the nation's own trading platform to close its doors for what could have been the final time.
But the opening bell is to ring again as a group of Scottish investors are running with plans to reopen the exchange.
However, with numerous well-established markets around the world why does Scotland need its own one?
The new exchange venture, dubbed Project Heather, is headed up by Edinburgh-based financial entrepreneur and broker Tomás Carruthers.
He claims it is "quite odd", given the UK's history, that there is only one stock exchange when there used to be five in Scotland alone.
He hopes the reintroduction of the trading platform create opportunities for entrepreneurs and investors around the country.
In particular Mr Carruthers sees Aberdeen as a major player in its success.
"Aberdeen is a vibrant area and I think it's already demonstrating its attractiveness for startups," he said.
"I should say the stock exchange is not because we want Wood to move from the listing it already has on London. This is about encouraging new entrepreneurship and new investment across Scotland so we think the stock exchange will be a catalyst for both."
When the Second World War ended in 1945 there were 45 stock exchanges in the UK, with five in Scotland. Exchanges in Edinburgh and Glasgow were founded first with Dundee, Aberdeen and Greenock coming later.
These consolidated to form the Glasgow Stock Exchange which still operated its own floor and became known as the Scottish Stock Exchange.
It then merged into what was christened the International Stock Exchange of Great Britain and Northern Ireland by an act in 1973 and is now the London Stock Exchange Group.
Mr Carruthers said the new Scottish Stock Exchange will differ to the past.
He said: "There won't be men writing prices on blackboards with chalk wearing bowler hats but there will be separate offices.
"We already have offices in Edinburgh and a small office in Glasgow and we will have an office in Aberdeen as well but they will be for business development.
"They will be for people to learn about how they can come and use the exchange to raise capital and to invest."
Earlier this month Project Heather, spearheaded by firm Bourse Scot, secured a £750,000 Regional Selective Assistance grant that will help create 45 jobs across the three offices.
Mr Carruthers said he wanted to make the option of floating a real thing.
He said: "There are lots of funding alternatives available to businesses and it's not just floating on London.
"Normally when you grow your business to the size of £30 million or £50m market capital, certainly the research in Scotland shows you don't really think about floating. What you think about doing is selling outright or identifying a private equity investor.
"One of the reasons for that is simply distance but another reason is typically the entrepreneur would have grown their business with the advice of corporate advisers.
"Because there isn't a stock exchange in Scotland those corporate advisers won't be able to make public market work so the entrepreneur is in the position where they are going to have to fire the CAs and the lawyers who helped them grow their business in the first place and that's not attractive, so they mostly won't do it.
"Certainly in the economy of the north-east of Scotland and Aberdeen there has been a lot of private equity investment so you can see for yourself that's how the economy is developed.
"I think the issue in Scotland is not really to do it on London or our stock exchange, I think the issues is to float, to sell, to trade or to take private equity. We want to make the option of floating a real thing."
Time is right for Scottish exchange, says Springfield Properties chairman Sandy Adam
Springfield Properties was listed on the Alternative Investment Market (AIM), part of the London Stock Exchange, in 2017.
The process was intense and onerous – but one well worth pursuing. We knew floating would act as a catalyst for growth and help us achieve our potential.
As a Scottish company that operates solely in Scotland, we fully support the same opportunity for other growing organisations.
This is why the creation of a new national exchange for Scotland should be welcomed.
We have found the benefits of a stock exchange listing to be numerous. Following Springfield's listing on the AIM, we successfully secured our £25 million investment target.
The capital raised is funding our continued growth, accelerating development of our Springfield villages and affordable housing across Scotland, while also supporting our geographic expansion with land in new locations.
Access to capital is just one of the benefits – it is also great for our staff.
Since floating, we launched a share save scheme to give staff an opportunity to share in Springfield's success; 68% of staff signed up – which is significant, considering the construction industry average is 25%.
We have increased visibility in our market and strengthened our profile through strategic acquisitions.
We returned to the market five months after listing, raising a further £15m to fund the acquisition of Dawn Homes, and earlier this year we acquired Walker Homes in a £31m cash deal.
Floating on the AIM has undoubtedly paid off but had a Scottish Stock Exchange been an option, we would have seriously considered it. I have no doubt Scotland is ready for its own stock exchange and that the time to launch is now.
The foundations are in place; we have a reputation for excellence in fund management and, despite the absence of a Scottish stock exchange since 1973, according to the Investment Association, £615 billion is currently managed by Investment Association members in Scotland, representing 8% of the UK total.
A new stock exchange should have a global outlook and international ambitions, and it is right that we operate on a world stage.
But its ongoing success will rely on its support of domestic businesses and this is where I see huge potential.
For sectors that are flourishing in Scotland, such as housing, construction, biotechnology and renewables, a new stock exchange will allow the growth of dynamic, forward-looking Scottish businesses by connecting them with investors, expanding Scotland's financial services sector and creating more jobs.
We know people in Scotland are working to encourage entrepreneurship and competitiveness to secure the future of the economy.
The Scottish Government's National Framework aspires to the creation of a more prosperous country through sustainable economic growth for the benefit of all.
A Scottish Stock Exchange supports this framework, with the opportunity for businesses to expand and flourish, and adds another string to Scotland's bow.
Waiting for regulator's nod
The Scottish Stock Exchange started trading on January 2, 1964 following a merger of the four main stock exchanges in Scotland: the Edinburgh Stock Exchange, Glasgow Stock Exchange, Dundee Stock Exchange, and Aberdeen Stock Exchange.
With HQs in Glasgow, offices remained in Edinburgh, Dundee, and Aberdeen including the Granite City base at 35 Albyn Place.
These exchanges operated as local branches until 1971 when they closed completely.
During construction of the new Scottish Stock Exchange building in St George's Place, Glasgow, the exchange was housed in a converted warehouse on Ingram Street. The new building was opened after two years' work on April 13, 1971.
In 1973, the Scottish Stock Exchange merged into the London Stock Exchange.
Since then, there have been calls to re-establish an independent stock exchange in Scotland and in 2016, plans were announced for the establishment of a Scottish Stock Exchange by a group of ex-NASDAQ traders and Scottish investors to be based in Edinburgh.
The announcement was made after the referendum on the UK's membership of the EU, in which England and Wales voted to leave, but Scotland voted to remain within the European Union.
Last year fresh plans for the trading platform were unveiled when businessman Tomás Carruthers announced a deal with Euronext to provide its Optiq software platform for a virtual exchange based in Scotland, tentatively known as Bourse Scot.
Euronext is one of the world's largest stock exchange operators – and is the leading pan-European exchange.
It has 1,300 listed stock issuers worth 3.9 trillion in market capitalisation.
Bourse Scot expects to launch the exchange later this year subject to Financial Conduct Authority (FCA) approval, and is in talks with potential issuers who would use it to raise investment.
Once established, a Scottish stock exchange will be a new route for Scottish businesses and organisations to raise funds and complements already, or soon-to-be, established government initiatives such as the Scottish Investment Bank, Scottish Enterprise funding, and the Scottish National Investment Bank.
At the start of the year vital funding was secured by Aberdeen firm Anderson Anderson Brown (AAB) to help the project get off the ground.
And on May 9, 2019 it was announced that Scottish Enterprise had awarded a £750,000 Regional Selective Assistance grant to Project Heather in support of 45 highly skilled jobs.
Mr Carruthers said: "We are on track to be live this year but obviously the activity of a stock exchange is highly regulated and ultimately it will be the FCA, my regulator, which will determine when the exchange will go live."
Mr Carruthers said that despite their extensive research of the former Scottish Stock Exchange they have not been able to find a bell from the Aberdeen Stock Exchange.
And he is keen for anyone with any information about the bell, or the workings of the exchange, to get in touch.
He added: "What we are really interested to do is engage with firms like Anderson Anderson Brown who can advise companies on corporate finance and help them to raise money, investors, pension funds.
"Also, normal people who want to put their savings to work to capitalise Scottish industry and obviously entrepreneurs and businesses we can raise capital for."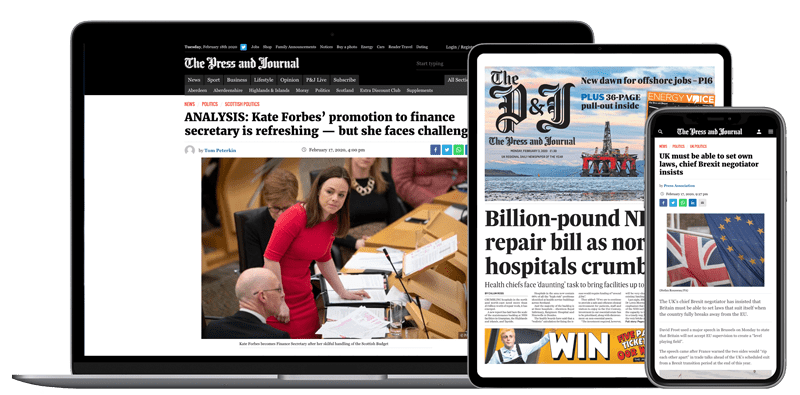 Help support quality local journalism … become a digital subscriber to The Press and Journal
For as little as £5.99 a month you can access all of our content, including Premium articles.
Subscribe