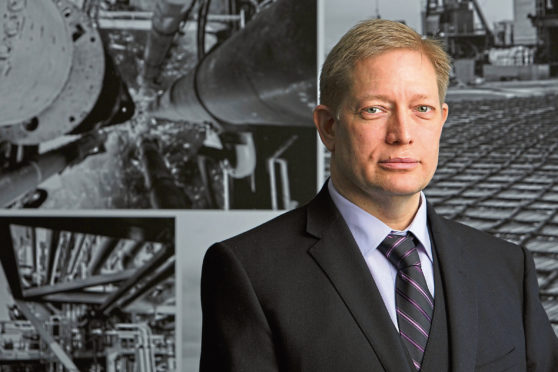 The history of the oil and gas supply chain in the UK is characterised by engineering expertise, learning hard lessons, our people's incredible ability to get things done and a cycle of change.
It's been our supply chain's ability to adapt that is key to helping us keep pace with the ever-accelerating oil and gas business cycle.
It was a cycle that began decades ago with one gas discovery in the southern North Sea in the 1960s.
Oil was then found at the Arbroath field in 1969.
Momentum began to build as BP and Shell discovered massive resources in the Forties and Brent fields and the rest, as they say, is history.
In the early 1970s, businesses with a visionary outlook realised they could quickly benefit from North Sea oil operations if they could provide the tools and services the job required.
The supply chain was boosted by the 1973 oil crisis when the production of UK oil and gas became more attractive, and oil field services companies expanded to ensure production could begin on large fields like Argyll, Duncan and Piper.
With its fishing heritage and harbour facilities, Aberdeen seized this opportunity.
Some businesses like Wood Group with marine engineering, logistics and sea-going expertise diversified to offer integrated offerings such as operations and maintenance, and engineering design for offshore platforms.
Others became experts at offering specialised services in niche areas.
Hubs of activity emerged in the east of England to support the southern North Sea, and companies won contracts to construct offshore installations in Tyneside's fabrication yards.
By 1978, our homegrown supply chain, encompassing operators and businesses with the expertise required to find and develop oil and gas, topped one million barrels of North Sea production per day for the first time.
Heady times, but with the 1986 oil-price crash a turbulent era began with geopolitical and economic uncertainty, cuts in exploration budgets, job losses and pressure across the supply chain.
A new reality dawned and with it the realisation that we had a supply chain worth fighting for.
With 20 years of North Sea oil and gas expertise, our industry had market value beyond the UK, but investors were more attracted to other basins.
Operators and supply chain service providers started considering different ways of working including alliancing and the Cost Reduction Initiative for the New Era (CRINE) to increase the competitiveness of the UK Continental Shelf.
While that has been and gone, LOGIC (Leading Oil and Gas Industry Competitiveness), an Oil & Gas UK subsidiary established 20 years ago, continues to play a key role in improving business process efficiency across the supply chain.
In 2013, the Wood Review was the catalyst that drove faster change, causing us to examine how we did business and highlighting how fresh thinking was key to securing the next phase of offshore activity and our people are key to us delivering that goal.
Since the early days, our industry has been a major employer.
It has been estimated that in 2017 around 27,195 people were directly employed in the oil and gas sector in Aberdeen City and Aberdeenshire. That represents 75.3% of all direct oil and gas employment across the UK.
Much has been achieved but challenges remain. Our latest business outlook saw production increasing and exploration ramping up, but highlighted concerns that some companies were experiencing serious reductions in revenue, margins and cash flow.
These concerns keep my team busy. Supporting organisations operating at all levels of the UK upstream oil and gas industry, from super majors and independent producers to large supply chain services businesses and SMEs, we run workgroups, forums and other initiatives aimed at addressing our challenges.
They include improving industry systems for supplier qualification, developing a simplified supplier assessment questionnaire, and rolling out new supply chain contracting principles.
We also promote innovation in commercial arrangements, including our supply chain principles aimed at enabling client and supplier to optimise performance, creating value and boosting competitiveness.
And Oil & Gas UK's Efficiency Task Force is a key resource for sharing information and examples of good practice across the sector.
Various themes dominate the supply chain agenda including digitalisation, the net-zero carbon challenge and the opportunity to export our capabilities.
Digitalisation is helping prolong field life on the UK Continental Shelf. Companies are applying this technology to maximise uptime, reduce maintenance costs and enable analytical insight through data acquisition, processing and interpretation, and the rate of change is accelerating all the time. This is happening across our operations including reservoir management, exploration, logistics, production operations or decommissioning.
Around two-thirds of new fields in the UK are likely to be developed as subsea tiebacks because the era of large fields is now a thing of the past. North Sea fields now tend to be at remote locations, comprising smaller reservoirs or under development in deeper water.
Our experience in this subsea engineering is a highly-specialised UK capability ripe for export.
We're also ensuring we have the capacity to deliver world-leading decommissioning services through a combination of performance improvement, effective cost leadership, technological innovation, environmental accountability and an openness to adopting new business models. With the right support, we can realise the benefits of first-mover advantage and cement our global reputation.
Our supply chain services are in demand across the globe and, with a future goal to double exports there's lots to play for, but we've got to act now. We're also entering a fast-accelerating era when we need to transform our world-leading engineering skills, infrastructure and energy expertise to help the UK meet its net-zero carbon emissions ambition.
Our supply chain has proved its capacity to move with the times.
Matt Abraham, supply chain director, Oil & Gas UK