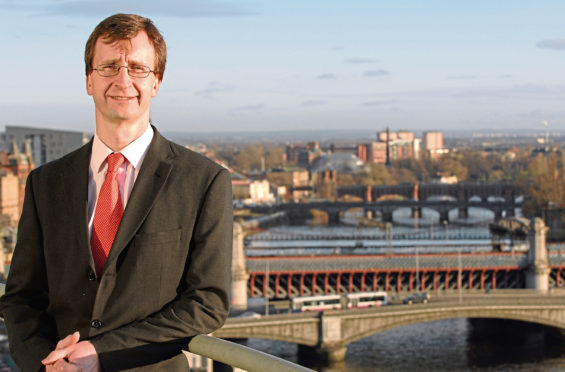 Supply chains are critical to the success of our business ecosystem.
A huge proportion of companies throughout Scotland – from dairy farmers to major international trading manufacturers – would be unable to function without these networks.
But their importance goes far beyond this.
Almost every product and service we buy and use is the result of a supply chain.
A good example is the cereal that is grown, passed to a processor, moved on to a packaging plant, then to a food warehouse, and finally to the corner shop or supermarket.
Or the painkiller that is developed, tested, produced, packaged, and ends up in your local pharmacy.
Supply chain companies support countless jobs north of the border.
Scottish Enterprise recognises this vital role, and it is a key component of the support we offer to businesses up and down the country – helping ensure they're able to find their place on a supply chain appropriate to their business model.
The world of manufacturing is experiencing rapid developments in digital technologies transforming the way we design, build and sell our products and services.
Our Scottish Manufacturing Advisory Service (SMAS) offers support across the whole manufacturing supply chain.
It works intensively with businesses across all sectors and of all sizes north of the border – from Shetland to the Borders.
Technology, automation and global supply chain opportunities mean the business world is changing fast.
To maintain future competitiveness, it is increasingly vital that businesses engage their entire workforce in supporting innovation and the adoption of new processes and technology.
SMAS is designed to help Scotland's manufacturing companies plot a course to take advantage of new opportunities to increase productivity and boost competitiveness.
A number of projects are helping maximise opportunities for our supply-chain companies.
The Lightweight Manufacturing Centre (LMC) gives Scottish firms a competitive edge in new manufacturing processes for lightweight materials such as titanium and carbon fibre, which are increasingly being used in the aerospace, automotive, oil and gas and renewable industries – real growth sectors for supply chain businesses.
LMC is part of the National Manufacturing Institute Scotland (NMIS), which will equip manufacturers to compete in future international markets and support the transformation of Scotland's manufacturing industry in terms of innovation and digital opportunities, creating sustainable, high-value and highly-skilled jobs.
By providing world-class expertise to address industry challenges, NMIS will be able to assist companies to develop prototypes and prove manufacturing technologies and processes as well as foster supply–chain development.
The institute will provide space for the supply chain to collaborate with original equipment manufacturers.
It is anticipated that the new Michelin-Scotland Innovation Parc (MSIP) in Dundee will offer the same opportunity to supply chain companies already based or looking to be based in the north-east in the low carbon and sustainable mobility sectors.
The MSIP partners believe the location will be a leading global destination for innovation, attracting companies, research institutions and skilled people to address key global challenges in which Scotland has a competitive advantage.
The partnership will provide job opportunities and skills development in the Dundee region with the aim of meeting the needs of people, the place and planet.
Baker Hughes recognised the value of this campus approach and opened its transformed centre of excellence facility at Montrose. The world-class centre will deliver engineering, manufacturing, test and assembly and services to advance deepwater technology for customers.
The upgraded and expanded campus enables the company to offer product innovation from design to delivery from one location servicing customers globally.
The advanced manufacturing technologies serve global oil and gas activities today and enable product innovation and technology advancements for the future.
Moving the new–build operations to one campus brings greater efficiency for customers and eliminates extra transportation between sites, helping to reduce environment impact.
It is also the case that a sectoral approach to supply chains can be beneficial.
Scotland's Pharma Services cluster is delivering solutions for drug developers across the full value chain of therapeutic development – preclinical and/or clinical research, drug manufacture and formulation expertise – and easy access to a comprehensive supply chain.
This dynamic hub attracts ever-increasing numbers of life sciences companies across the supply chain.
Scotland is in the top three centres for drug discovery and development in the UK, with two of the world's biggest contract research organisations Quintiles and PPD plus global players Pfizer and Roche recognising the value of strategic engagement with Scotland.
Meanwhile, Scottish supply-chain companies are being asked to propose solutions for offshore platform deck space as part of the offshore oil and gas decommissioning programme jointly developed by private sector economic development company Opportunity North East (ONE) and Scottish Enterprise (SE).
ONE and SE are partnering to support SMEs to target future decommissioning business and are working with oil and gas operators on a series of project–specific opportunities.
Building a supply chain is, of course, not only about being able to move goods from one place to another.
Recognising that the links must be secure and sustainable, the Market Driven Supply Chain project aims to find ways to ensure this is the case for Scottish supply chain companies.
Now in its sixth year, the scheme was developed in response to increasing pressures on primary production resources in the food and drink sector and the need to connect efficiently to market demand and quickly respond to opportunities for growth.
Phase one delivered 33 projects, generating more than £20million in added value sales growth and efficiency gains.