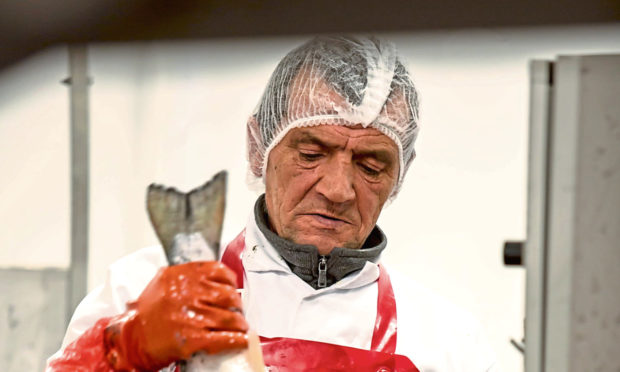 Salmon farming chiefs have breathed a collective sigh of relief at the industry avoiding a potentially devastating tariff on imports to the US.
It was feared the latest update on tariffs from America's trade department would add Scottish salmon to the list of products liable for new import taxes as part of a long-running spat between Washington DC and Brussels about aviation subsidies.
US imports of single malt Scotch whisky are already subject to a 25% surcharge.
But this country's salmon exports to the key US market remain tariff-free, at least for now.
Scottish Salmon Producers' Organisation (SSPO) strategic engagement director Hamish Macdonell said: "We are relieved that our farmers will be able to continue sending top quality Scottish salmon to the US without any new barriers in their way.
"The US is a very important market for Scottish salmon, with sales in 2019 valued at £179 million.
"Most of our exports to the US are fresh, chilled whole salmon but there is an increase in sales of salmon fillets worth an additional £66m which could have been hit by tariffs."
Meanwhile, north-east customs experts are urging seafood processors to be "proactive" amid ongoing uncertainty about future exports to the EU.
Last week the SSPO warned of the potential for "huge unnecessary burdens" on Britain's biggest food export.
Currently, salmon exports to the EU do not need export health certificates (EHCs) due to continued free movement of goods between Britain and the economic bloc.
But the producers' group claimed it is "inevitable" these exports will need EHCs after the end of this year, when the Brexit transition phase ends, because of the government's decision not to align with EU rules in the future.
Yesterday, Oldmeldrum-based Bethan Customs Consultancy said: "The fish-processing sector will need to adopt and become conversant with a raft of new legislation if they are to continue exporting to the EU.
"However, as with most situations, doing your homework and being prepared will go a long way towards alleviating potential disruption to your business and/or supply chain.
"The waters may be choppy at the moment, but be proactive in making sure your procedures are water-tight and there should be no reason why your business can't continue to cast its net across the EU."