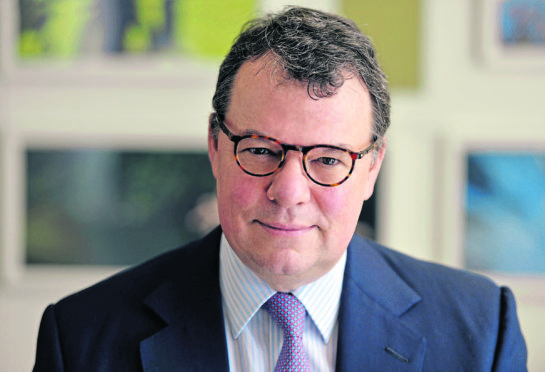 Standard Life Aberdeen (SLA) boss Keith Skeoch said yesterday he was "encouraged" by a £1 billion net inflow into the group during the first four months of 2020.
But he was disappointed not to be able to share this news or discuss any other topics with shareholders "over a cup of tea" at the Scottish financial services giant's "unusual" annual general meeting (AGM).
Yesterday's AGM in Edinburgh was restricted to a minimum quorum presence because of Covid-19.
Outgoing vice-chairman Martin Gilbert – who has now stepped down from the board and will leave the company altogether at the end of September – was, therefore, unable to attend.
Mr Skeoch said assets under management (AUM) stood at £490bn at the end of April, down from £544.6bn at the end of 2019 and more than £600bn the year before that.
Assets worth an estimated £24bn were removed from the business this year and market conditions also drove a hole in AUM.
Lloyds Banking Group (LBG) withdrew a further £25bn in the latest tranche of an exit of its Scottish Widows and LBG Wealth business with SLA, meaning there was an estimated net inflow of £1bn.
Mr Skeoch said this was "an encouraging signal", suggesting momentum seen in the second half of 2019 was continuing.
SLA stuck by its plan to pay a final dividend of 14.3p for 2019, giving a full year payout of 21.6p, highlighting its "capital strength" and "financial resilience".
Mr Skeoch said financial markets were facing "choppy times" ahead as a result of the coronavirus but the long-term fundamentals of global fund management remained strong. Mr Gilbert said his farewells on "a significant day for me" in one of the AGM videos uploaded to SLA's website.
He thanked "colleagues past and present" for making his journey "so enjoyable" – from co-founding and leading the spectacular growth of Aberdeen Asset Management, through and beyond its £3.8bn takeover by Edinburgh-based Standard Life in 2017.