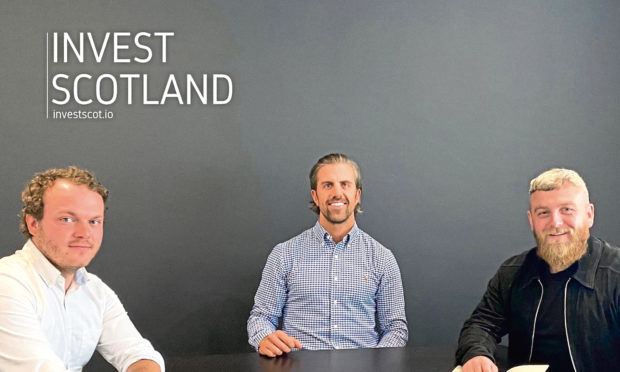 Three Scottish entrepreneurs have set up an investment fund aimed at transforming businesses into game-changing global brands.
James Longcroft, John Ross and Sean Rollo are using their own personal wealth to establish Invest Scotland, described as a "Dragons' Den for start-ups".
The project was conceived during the early days of the Covid-19 pandemic when the trio noticed a growing number of smaller firms struggling to cope with the fall-out.
Edinburgh-based Invest Scotland is making up to £30,000 per firm available.
To be eligible, a business must be based in Scotland, be registered at Companies House as a public limited company and have strong growth potential, thanks to a robust business plan.
James Longcroft, founder of Choose, a company at the cutting edge of packaging technology, said: "We want to take the best small businesses in Scotland and transform them into industry leaders across the globe.
"When the pandemic struck we struggled to get banks to lend to us… and it made me think what was out there for companies taking their first steps.
"There was a lot of support for established businesses with bounce-back loans, while the Coronavirus Business Interruption Loan was there to assist the bigger ones. Banks aren't really looking at new businesses or small businesses in the same way as they were before the pandemic. The landscape has never been more challenging for start-ups or small businesses."
Mr Longcroft added: "We're not looking to become a huge equity house and drum up millions of pounds for existing businesses.
"We are here to help Scottish start-ups get off the ground. It's almost like a Dragons' Den for start-ups, but it's the three of us helping and successful applicants don't have to pick just one."
In return for the funding support, Invest Scotland will take a stake in the firm, with the aim of selling it back to the business or other interested investors at a later date. Any profits will be reinvested into helping other start-ups.