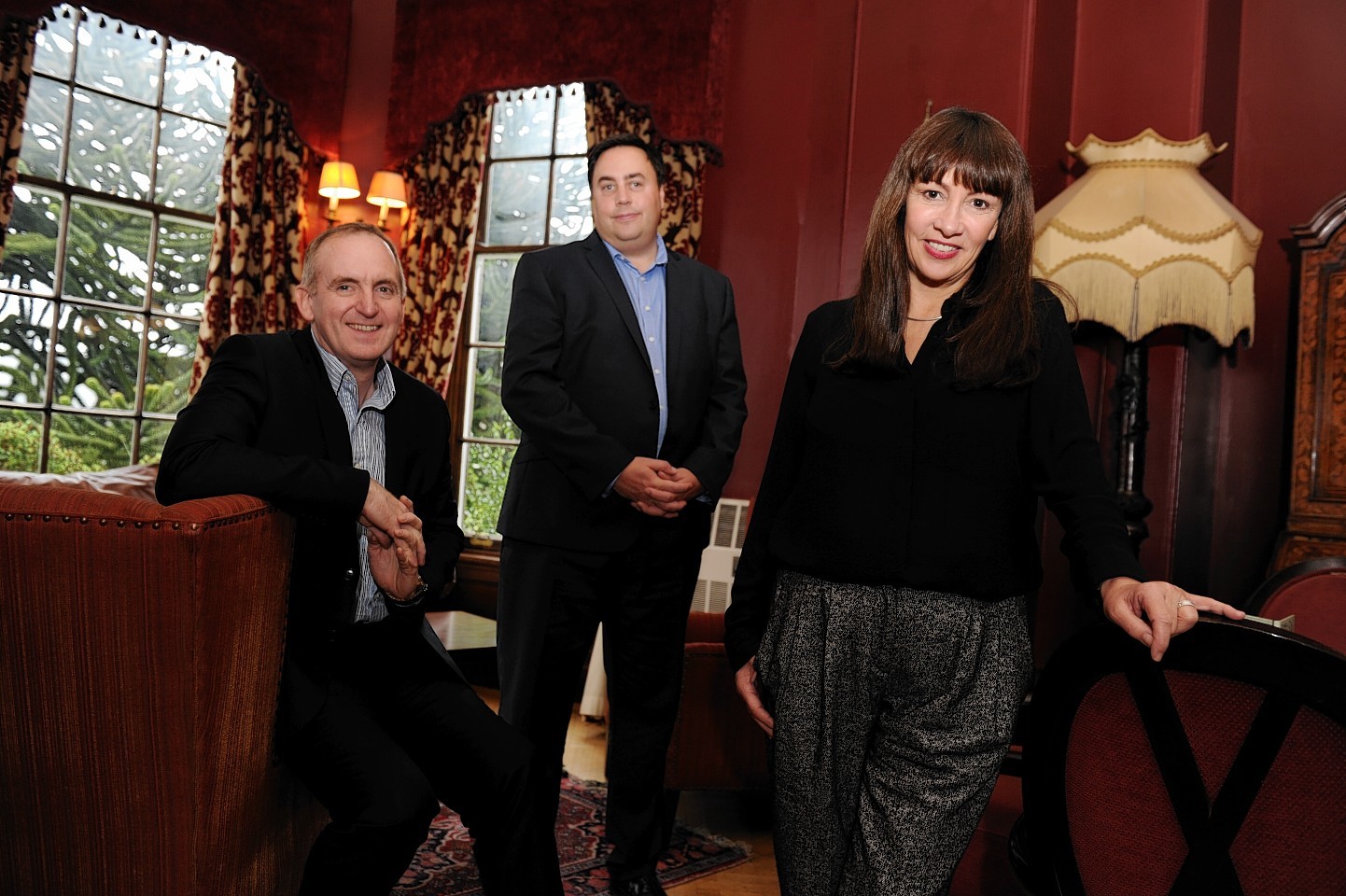 A cheerful fire in the handsome Archibald Simpson-designed drawing room wards off the chill of the afternoon as guests arrive to dine and discuss investment.
The first to arrive for the meeting at the Macdonald Pittodrie House is Frances Duncan, managing director of one of Scotland's largest independent optical chains, Duncan & Todd.
Her business is one of the 14 firms in Scotland that have benefited from growth capital equity investment from the Business Growth Fund (BGF). The £2.5billion fund exists to support small to medium sized firms across the UK.
It was set up by the government in the wake of the banking crisis as lending to this important part of the UK economy collapsed. It aims to ensure firms with potential can actually get the capital they need to grow.
Andy Bird, founder and chief executive of Oracle applications firm Inoapps, is also backed by BGF. It gave him £10million last year in exchange for a stake in his Aberdeen-based IT company and a place on the board as a non-executive for BGF investment director Mike Sibson.
Mr Bird, whose firm employs 185 people, arrives at the historic hotel the same time as Simon Munro, the Regional Director, Scotland for BGF.
"Our approach is very different," explains Mr Munro.
"We are looking to invest in SMEs and take minority stakes in the business and act as non-threatening partners."
We adjourn to the Library, one of three private dining areas at Pittodrie House.
As three types of freshly-baked bread are offered by the hotel's able serving staff, Mr Bird explains he looked to do a deal with BGF after an agreement to sell stake in his firm to another private equity firm fell through when it came back with a lower valuation.
"At the end of 2012, I was quite close to exiting to a private equity company. The strategy was around consolidation in the UK and expanding internationally. That fell through – the day of our Christmas party," he recalls.
Following this setback, Mr Bird approached a number of banks to help him fund potential acquisitions, and was introduced to Mr Munro.
"Since then, in the last year we have kicked off our business in Malaysia, we have opened in the US and we are finalising our office in India at the moment. We made an acquisition, and we have strengthen our management team," says Mr Bird, who tucks into his starter of a trio of hand-dived west coast scallops.
The lunch menu is the brainchild of chef Graham Campbell, who was the youngest chef in Scotland to win a Michelin star at the Ballachulish Hotel in 2008. He came to the stately Pittodrie House a year ago to secure two AA rosettes, which he has achieved, with a third now in the scope.
The table falls silent as the main course arrives. Mr Munro has chosen the venison with celeriac and mushroom, as well as a deft and unusual foam derived from a Douglas fir. For him, the BGF is not just a pot of cash, it also exists to beef up the companies with the right people in order to help them get past what he says is a "glass ceiling" of growth that affects many small firms.
"We are looking to provide more than just money. We provide access for businesses we invest in to our talent network," he says.
"We have a group of 2,500 people who have been there and done it themselves – made money through their own businesses or made money for other people running businesses.
"If we can take their expertise and experience and help to apply that in an SME environment, that can help businesses to grow."
Ms Duncan joined Duncan & Todd as a student optician 30 years ago, and in 2007 she led a management buy out of the firm. The deal was backed by the Royal Bank of Scotland, but Ms Duncan found they were no longer able to support her ambitions for growth.
"We did the deal three months before the credit crunch started. It was tough times. No one was lending anymore to back our expansion plan. The business performed really well during the downturn. But our growth flatlined. We sold a chain of shops in Ireland and invested in our manufacturing plant.
"What a lot of people don't realised about Duncan & Todd is we have retail, as well as manufacturing and we have a corporate business too.
"We kept our heads down but we realised we needed working capital. There were opportunities in all three areas of the business. We needed to invest in more production lines in our lab. I got introduced to the growth fund and really liked the model."
In December, BGF invested £5.6million in Duncan & Todd to fund acquisitions, increase manufacturing capacity and support sales growth.
Ms Duncan said she found their approach better suited her business than other private equity firms.
"If you talk to venture capitalists, they don't think an opticians is sexy," she admits.
"Since then we've done an acquisition in Dunfermline. And we made a £1.5million investment in the lab.
"We now have a coating facility, which improves margin and reduced turn around times."
The firm currently has 23 retail stores spread across cities and market towns in Scotland from its two operations in Aberdeen to Wick in Caithness.
She also welcomed serial chief executive and chairman Bob Brannon to lead the company's board as well as senior investment manager Patrick Graham as a non-executive.
She added Mark Bryant, BGF's head of manufacturing, was also deployed to offer advice about how to expand the manufacturing division.
"The guys in the lab really appreciated working with somebody that understands how they worked," she says. "Usually it is men in suits. His expertise has been a real advantage. And a great support. Now we have got the people in place from outside the business, everyone is on board with it. Everybody has bought into the new people."
Taking a cue from Mr Munro, who says he is trying to watch his weight, the guests resist making a selection from the hotel's dessert menu. But they are gladdened by the arrival of petit fours along with coffee.
Mr Bird says what he also appreciates about BGF is – unlike the venture capitalists he had tried to do a deal with before – it didn't insist on cutting the amount on offer during negotiations.
"There is always some valid reason to have a go, but they didn't," recalls Mr Bird. "I think that is something that really sets the growth fund apart from the others. It does show that commitment to being a partner rather than the hard nosed VC animal."
Mr Munro adds: "The growth fund is genuinely different. Most private equity firms will back complete management teams, or will cut the entire management team and enforce a new one on the business.
"We look for a business that we feel has growth opportunities. Most cases we accept the full management team that is already in place. Rather than chop everything, we supplement what is already there. It is about broadening and deepening the management team to give the company what it needs to take it to that next level."
But that doesn't mean the fund isn't looking for a return on its investment – quite the opposite, Mr Munro insists.
"We are investing in good companies and good management teams that have the potential to grow to deliver a return. That is what it's all about at the end of the day.
"The main differences are, we are approaching it in a more user friendly way. We are trying to be a partner, and taking a much longer term approach.
"We are not necessarily looking for an exit in three to five years, which is typical for most investment funds.
"We are happy to be involved in businesses far longer than that if that's what management wants."