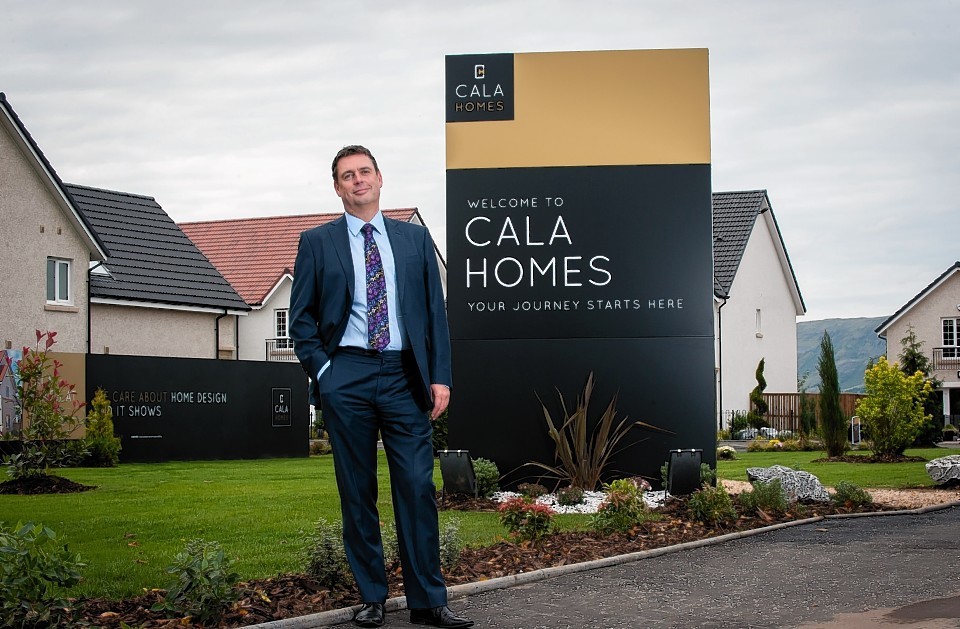 Cala Group is still building more new homes in and around Aberdeen despite the oil and gas downturn, the housebuilder's boss said yesterday.
Chief executive Alan Brown said prices in Europe's energy capital had stabilised over the past year but there was still no sign of a let-up in strong housing demand.
He was speaking as Cala, which has its roots in the Granite City and targets relatively affluent areas of the UK, announced a near-doubling of pre-tax profits to a record £50.9million for the year to June 30.
Revenue soared by 79% to £511.6million – also a record – as the company reaped the rewards of the first full year of a new strategy to achieve economies of scale across its eight regionla businesses through a "sustained but controlled period of growth".
Edinburgh-based Cala reported 993 completions, up 34% from a year ago, but the firm sees potential – based on current market conditions – to build up to 2,500 homes annually and is targeting revenue of £1billion within five years.
Much of its growth is driven by a fast-recovering market in the south-east of England, where housing shortages have helped the company's average UK price to jump by more than £80,000 to a record £509,000.
In Scotland, Cala's average prices are running at about £340,0000, which Mr Brown said meant there was mostly a "neutral" impact from the new land and buildings transaction tax, which hits more expensive homes harder.
Cala, which now operates from about 90 sites around the UK, said it welcomed 169 new people to the business during 2014/15.
The company also increased its "strategic landbank" to more than 11,000 plots and reduced its net bank debt by nearly £24million to 117.8million.
Cala said a structural demand and supply imbalance in the UK housing market remained acute despite more new homes being built and an increase in the number of planning permissions.
It added: "House prices have continued to rise during the financial year, albeit at sustainable levels and we have seen modest underlying sales price increases of around 4-5% across the group's operating areas.
"Growing consumer confidence as the wider UK economy continued to improve has supported strong demand for new homes during the financial year."
Cala highlighted employment growth, good mortgage access and record low mortgage rates as key factors driving an increase in sales.
It said it "remained alert" to the potential impact of oil price changes in the Aberdeen market, but its "longstanding experience" of the city as well as a strong landbank meant it was still confident about its role in the region.
The company added it had started the new financial year with a "solid" forward sales position. By July 1, it had notched up 206 advance private home sales – worth £106.5million – for delivery by June 2016.