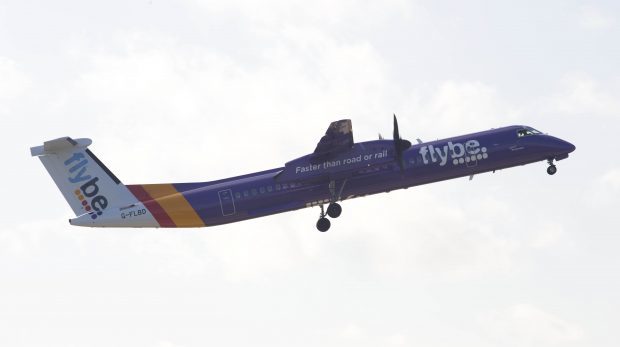 Regional airline Flybe said yesterday it was back in growth mode despite a "significant hiatus" in bookings after the Paris terror attacks in November.
The carrier said passenger volume and revenue grew by 2.1% and 3.6% respectively during the third quarter of its 2015/16 trading year.
But a 10.1% increase in seat capacity to 2.8million seats meant Flybe's planes flew 68.9% full during the three months to December 31, compared with a 74.3% "load factor" a year earlier.
And while total passenger revenue was up, the figure per seat fell by 6.1% to £46.61.
Total Flybe UK revenue for the latest period came in at £136.2million, up 4.7% year-on-year, after a large jump in contract sales.
The airline, which operates from all the major Scottish airports and smaller ones in the Highlands and islands through a franchise deal with Paisley-based Loganair, carried 1.92million people during its third quarter and 1.88million a year earlier.
Chief executive Saad Hammad said: "The tragic events in Paris overshadowed this last quarter and caused a significant hiatus in airline bookings, not just to France, but also on UK domestic and near-continent travel.
"As we expected, the combination of higher capacity in the market and lower spot fuel prices have led to lower yields sector-wide, even as the benefits start to come through from the unwinding of fuel price hedging.
"In this uncertain environment, we decided to protect yields rather than to chase unprofitable marginal revenue.
"As a result, revenue has grown by 3.6%, and this, together with continued reductions in unit costs, reinforces our resilience as a business, now that all legacy issues have been resolved.
"Passenger demand is now slowly recovering and reflecting a later booking profile. Meanwhile, it is encouraging that our focus on business travellers is increasingly recognised as being amongst the best in the industry."
Flybe, recently named best short haul airline at the 2016 Business Travel Awards, said fourth quarter forward bookings reflected its increased focus on business travellers with their late booking profile. It had sold about 37% of its seats for the period by January 24, compared with 40% this time last year.