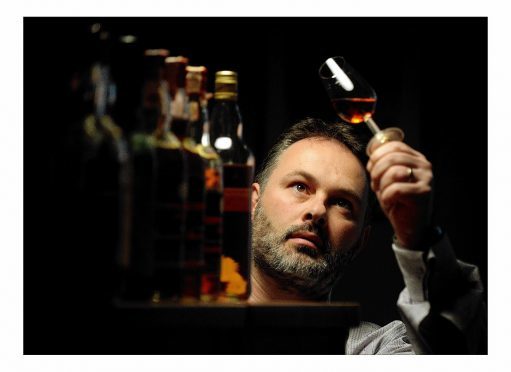 Bottles of rare whisky stashed away for a rainy day were better money-earner than gold or the stck market in 2005, new figures show.
Experts at Rare Whisky 101 (RW 101) , the valuation service, brokerage and consultancy launched two yeas ago by Andy Simpson, of Lairg in Sutherland, and David Robertson, of Edinburgh, found collectors' item bottles of Scotland's national drink "significantly" outperformed other types of investment.
RW 101's Apex 1000 Index, measuring the performance of valuable whiskies, rose 14% in 2015.
By contrast, rare wines lost 0.42% of their value and the price of gold fell more than 10%.
FTSE 100 Index shares were 4.93% cheaper and while other leading stock markets around the world ended the year ahead, for example New York's Nasdaq and the Shanghai Composite Index both gained more than 9%, they could not match whisky for value growth.
According to RW 101, the older the whisky the better as even poor quality old aged Scotch is becoming increasingly valuable.
Mr Robertson said: "The recent growth in the rare whisky market has exceeded all our forecasts.
"The coming year promises to bring even more supply to the market as new auction houses appear.
"While the sustainability of these volume increases could be called into question, we know for certain that the true rarities will only become rarer.
"Should demand remain constant or increase, as is fully expected, Scotch's credentials as a viable collectable and alternative asset class continue to look particularly robust."
RW 101 said the value of rare whisky bottles sold at auction in the UK alone during 2015 hit a record level of £9.56million, exceeding the previous year's total by 25%.
In volume terms, the number of bottles of rare whisky sold in the UK last year jumped by 28% to 43,458.
Highlighting "the speed with which this new asset class has emerged", RW 101 said just 4,072 bottles were sold in 2009.
2015 saw a "staggering" rise in the value of rare Japanese whisky, gaining an unprecedented rise of nearly 75% in just nine months before a final quarter price correction, the firm added.
Japanese bottles which sold for £350 a year ago were now achieving more than £3,000 on the secondary market, it said.
RW 101 said rare varieties of single malt Scotch brand The Macallan maintained their dominance of the global market on a volume and value basis last year, accounting for nearly 10% of all bottles sold and 23% of the total value.
The next closest distillery from a volume and value perspective was Ardbeg, on Islay, with an 8% share of the market in both cases.
Just three of RW 101's top 10 "investable" distilleries are still producing whisky, indicating strong demand for lost vintages.