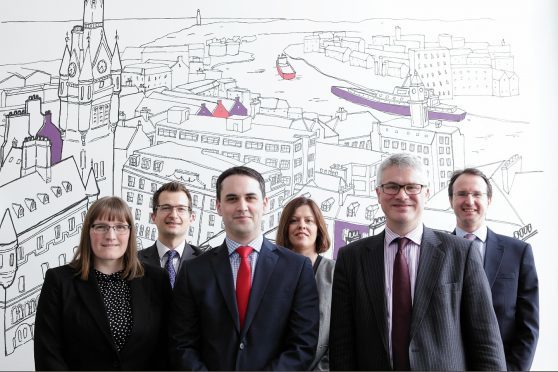 Scottish accountancy giant Johnston Carmichael (JC) has five new partners, including one each in its offices in Aberdeen and Huntly, taking the total to 56.
The firm, which operates from 11 locations throughout Scotland, has also promoted Scott Dunbar in its Elgin branch to director level.
Its new recruits to the partnership team, all internal promotions, are Richard Britten in Aberdeen, Jennifer Cormack at Huntly, Louise Peters in Forfar and Edinburgh office pair David Ward and Toby Rintoul.
Mr Britten is well known for his work with employers in the oil & gas, financial services and technology industries.
Ms Cormack joined JC in 1993 and manages a long list of clients predominantly in the agricultural sector but also across wind energy, dentistry and pharmacy.
Mr Dunbar has worked for the firm since 2008, advising clients across a range of sectors on accounting and taxation.
Sandy Manson, Aberdeen-based JC's chief executive, said: "We place great emphasis on developing talent from within.
"I am confident that our new partners and director will continue to play a major part in the success of our business, from providing exceptional client service to inspiring their wider teams to excel and prosper across the firm."
Meanwhile, tax expert Hazel Gray in the Aberdeen office of Deloitte has become a director of the professional services giant.
Announcing her promotion, Deloitte said she was an "integral part" of its research and development tax team, with a wealth of experience in advising privately-owned and private equity-backed businesses on how to make the most of incentives available to them.
Ms Gray is one of six new directors and three new partners across Deloitte's Scottish offices in Aberdeen, Edinburgh and Glasgow.
Deloitte now has 35 partners and 45 directors in Scotland, combining more than 110 years' experience with the firm north of the border.
Steve Williams, senior partner for Scotland and Northern Ireland at Deloitte, said: "All of our new partners and directors have a real focus on developing their teams.
"They are an inspiration to the people they work with and are strong role models for those coming through in the future."
Elsewhere, Nugensis Oil and Gas, a supplier of support software to the oil and gas industry, has appointed Martin Slowey as energy director.
Mr Slowey was previously interim business development/product manager at oil and gas well technology company Exceed and, before that, business development director at asset integrity specialist Arnlea Systems.
Nugensis, based at Portlethen, near Aberdeen, said its experienced new hire would help it to grow the business internationally.