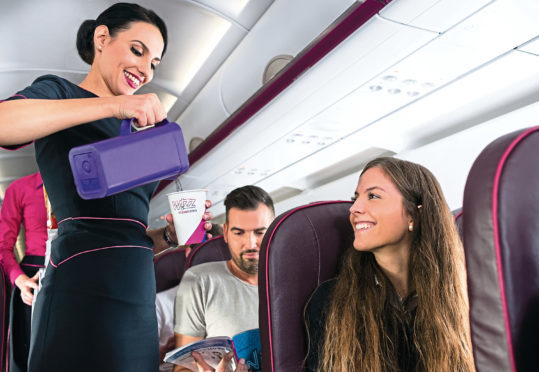 Budget airline Wizz Air has posted record annual profits on the back of 25% passenger growth.
Wizz, whose fast-growing network includes flights from Aberdeen to the Polish cities of Warsaw and Gdansk, said yesterday it had enjoyed another year of investment as it continues its mission to become "Europe's undisputed airline cost leader".
Chief executive Jozsef Varadi added: "This relentless focus on cost means we continue to stimulate the market through the lowest fares, resulting in record passenger numbers of almost 30million up 25% year on year.
"A backdrop of high economic growth rates across the CEE (central and eastern Europe) and the opportunities created by Wizz Air's ultra-low fares underpins our business, which has seen revenues increase by 24%."
Net profits at the airline grew by 22.1% to a record £241million during the year to March 31.
Hungary-based Wizz Air – launched in 2003 and operational since May 2004 – now flies more than 600 routes from 27 airports.
It is the largest low-cost airline in central and eastern Europe, operating a fleet of 96 Airbus A320 and Airbus A321 aircraft to connect 141 destinations in 44 countries.
Mr Varadi said Wizz was committed to operating the youngest, most fuel-efficient aircraft.
He added: "Evidence of that commitment can be seen in the average age of our fleet, which is just 4.6 years.
"However, we need to ensure we continue to have access to the latest technology and to have a constant replacement of older aircraft with new and so, in late 2017, we announced a firm order for an additional 72 Airbus A320neo and 74 Airbus A321neo aircraft.
"These aircraft, adding to our previous order for 110 Airbus A321neo aircraft, will allow us to sustain our cost advantage through cabin innovations, the latest engine technology and other efficiency improvements, while enhancing our customer offering and experience.
"We believe our strategy of building on our diverse network, highly efficient business and operating model, compelling customer proposition, solid finances and sound approach to risk management will result in sustainable growth and continue to drive increasing value for shareholders."
Wizz recently announced it had secured a British air operator certificate and set up a UK subsidiary as part of its Brexit contingency plans.
The carrier had previously said the UK's exit from the EU may cause major disruption for airlines.
As part of the creation of Wizz Air UK, headquartered in Luton, the firm will have eight new Airbus A320 and A321 aircraft in service by the end of 2018. The move is expected to create 300 jobs.
Wizz carried 29.6million passengers during the 12 months to March 31, up by 24.7% from a year earlier.
The airline said it was "very optimistic" for the coming year, adding: "Higher fuel prices are supporting a stronger fare environment and we expect these macro conditions to provide Wizz Air with market share opportunities as weaker carriers withdraw unprofitable capacity."